With COVID stepping in, distance or remote learning has taken the world by storm, thanks to technology that many e-learning solutions have experienced a boost in popularity. Within the e-learning solutions, learning management systems have grown fast, these can be understood as software development that provide end to end learning, educational and development programs. This includes all the different aspects of documentation, tracking, delivery, administration and training programs, all in one place.
Learning management systems popularly known as LMS are meant for both individual students and corporate pieces of training and usually have two parts to them.
Admin Interface: Learning management systems have various educators that provide their skills on the platform, they upload material and create new courses which add to the library of the application thus admin interface is extremely crucial as it determines the interaction quality of educators with the software.
User Interface: User interface refers to the student experience with the software, they are the final consumers of the product thus the experience should be student and beginner-friendly.
Different types of LMS?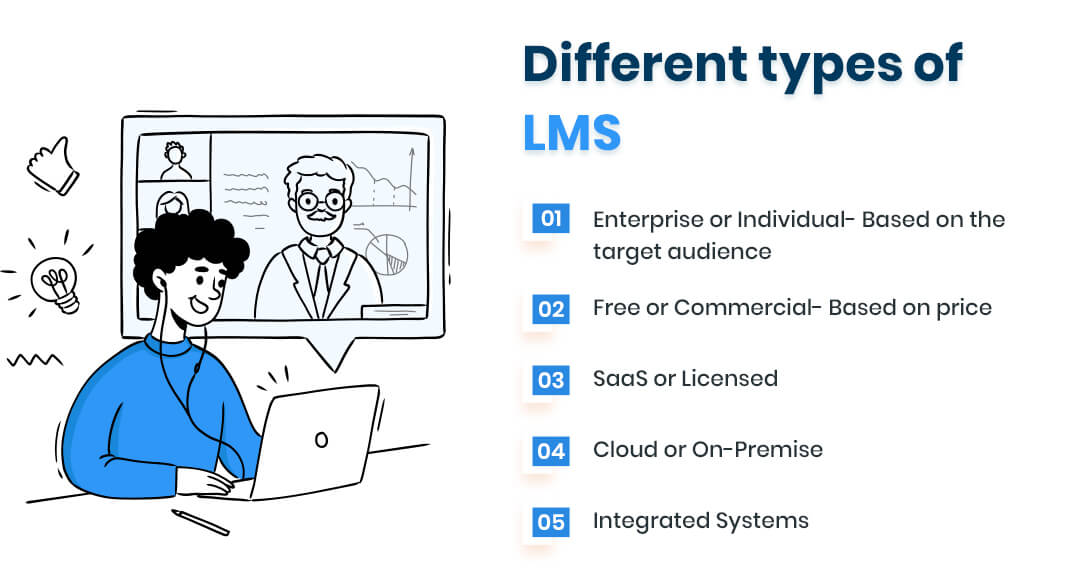 Enterprise or Individual- Based on the target audience:
Enterprise: Employee learning and upskilling are indispensable functions of modern HR. Corporate training programs in the modern day are all done on LMS, these solutions are customisable and scalable depending on the employee count and the specific demand of the corporate.
Individual: Individual LMS caters to individual students looking to upskill or e-learn, these usually run on a subscription model and are generalised solutions.
Free or Commercial- Based on price:
Free LMS: Several free or open-sourcing platforms provide free knowledge and are freely accessible. However, they are generally not customisable solutions and don't require enough expertise or have the adequate amount of support.
Commercial LMS: These are patented platforms that are designed specifically for an organisation or purpose, these platforms often have customised solutions and have 24 X 7 support, these are hi-tech platforms.
SaaS or Licensed:
SaaS: One of the most popular models, Software as a Service is a cloud-based services, scalable and agile service that includes frequent upgrades.
Licensed: Licensed products cater to a very specific demand and therefore are more flexible and have customer support, the largest cost to incur is the user license.
Cloud or On-Premise:
Cloud-Based: These platforms are hosted on a secure server and are intangible like the name suggest "cloud", users can access this product from any device and there are many scalable and agile solutions.
On-Premise: On-premise are older versions, majorly organisations have switched to cloud-based models, these on-premise models are on the ground and have a big scale.
Integrated Systems:
Modern models of LMS integrate existing systems and blend in for a seamless user experience, integration includes connecting with compatible products for an enhanced experience.
Why do you need LMS?
Before starting to build the product, you need to understand the purpose behind your requirement for LMS, it is becoming an indispensable tool but first, you need to understand the need for it and accordingly move ahead.
To understand the need of LMS, go through the following:
Advantages: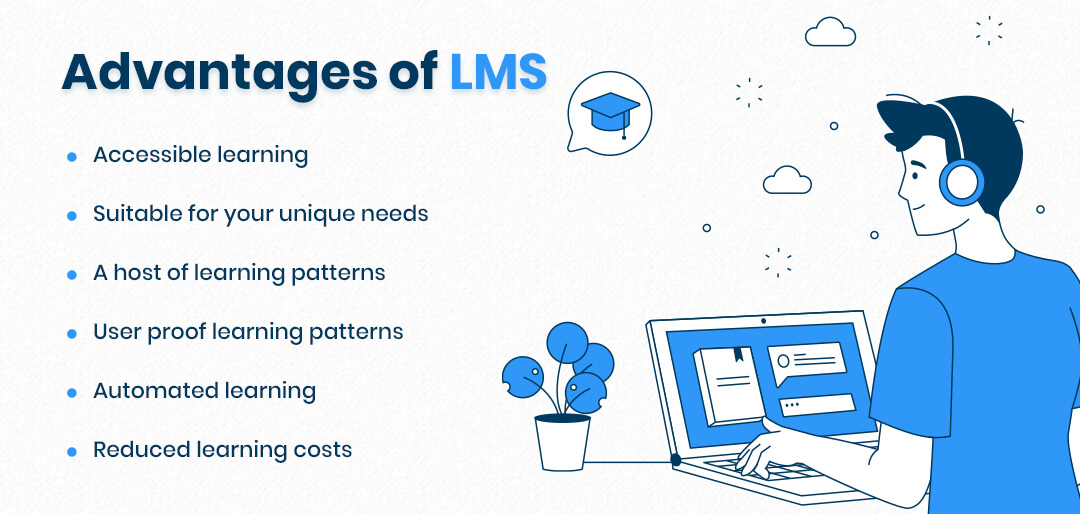 Accessible learning: Since LMS can be accessed using any device, the biggest advantage is learning on go, this is accessible from phones, laptops, computers and any other device. This is the biggest advantage and reason of how LMS are slowly replacing traditional systems of learning.
Suitable for your unique needs: LMS systems are not one size fits all approaches, these are specific or customisable solutions and thus are a great fit in the field of education. Both individuals and corporate can access it, therefore they are carefully planned for everyone.
A host of learning patterns: Popularity of LMS platforms have led to wide usage of them amongst students, they are an equal hit in the educator community as well, therefore the number of educators come to the platform and share their materials and content making it a rich repository of skills.
User proof learning patterns: Integration of analytics in the platform allows the system to take down the progress report of every learner and accordingly predict a learner life cycle on the system which is extremely beneficial for users.
Automated learning: Notifications, new course pop-ups, follow-up support are all automated making the learner's journey on the LMS more seamless.
Reduced learning costs: LMS are a cost-effective way of learning many traditional learning expenses of expert fees, classroom rent, salaries, textbooks and supplies automatically gets eliminated.
Disadvantages:

Extensive IT Support: The biggest drawback for LMS is that it requires massive IT support, it takes coding and IT skills to customise or even tweak the user experience. This is an indispensable cost when installing LMS.
Rigid systems: Many LMS systems are on a "freemium" model which only leaves limited features available for a few learners, to subscribe to the full course a heavy fee has to be paid and usually this fee includes other benefits like material, additional support.
Administrative cost and setup: Implementing an LMS system take time and support. The transition from a traditional learning system to an e-learning module will require the training of educators, they need to be fully equipped with modern cameras and filming techniques to produce top-quality content, they also need to be fully equipped with basic administrative requirements in times of need.
How to build an LMS?
Building an LMS software is a multistep plan that every business needs to answer. These steps are necessary for creating a seamless learning experience and should be followed to create an LMS Model from scratch.
Creating a vision board: One of the most important steps in this journey is setting the base right, having all your why's and how's answered at the beginning is always great. This will help you solve any hiccups you encounter in future. As the name suggests, you have to think long-term and have to work on the mission and vision of the system and to create that answers the following questions:
For whom are you creating LMS?
Why are you creating LMS?
What are your key priorities with this software?
Who and How will develop LMS?
What is your budget for the entire process?
Thinking of the monetary model is important as this will determine the revenue of the software- it can be a freemium, subscription-based or a free model and accordingly, you have to decide on your revenue streams that can be through advertisements, student fees. What are the different monetisation models?
Paid: Students have to pay for the resources and courses, this market is very competitive so you can attract students with a free trial period that will also create a buzz in the market for you, try to sell the students the catch in your product or your USP.
Freemium: These are popular models as some resources are free while some are chargeable, to unlock all the chargeable resources you have to pay the subscription fee and purchase the course. Free courses can also have certain premium features which can cost money for eg- ad blocking is a chargeable feature.
Brainstorm on features of the app: Now that you have thought about your why's and how's, designing and brainstorming the app becomes easier. In this step, you have to answer the functionality of the app. What are some of the must-have features? Read below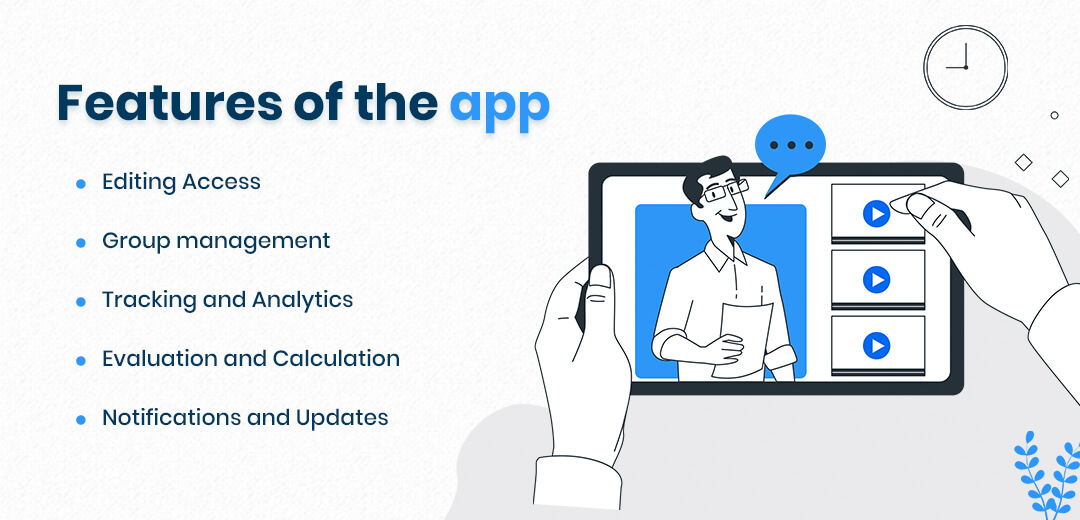 Editing Access: Course modifications and updates is a major responsibility, educators should have access to edit, modify and manage their courses. They should have the access to change or update the title, meta description, pictures, videos, audios to their existing resources. They should also be adequately trained in performing the same functions.
Group management: Seamless management is a key to the smooth functioning of the product. Through this feature, teachers will be communicating with students, assigning them groups or assignments.
Tracking and Analytics: Data analytics has made software efficient, through analytics, students can map their journeys on the system, they can see all their credit scores, marks and development, they can also see reviews for educators and skills. Through predictive analytics, we can predict the next step of the user thus making the operations seamless.
Evaluation and Calculation: Creating assessment tools and calculation metrics are important, audio-visual quizzes, objective and subjective answer writing all are different assessment methods that can vary from an educator to educator.
Notifications and Updates: Best possible way to communicate and inform students of any major update or new assignment or new educator or course renewal are notifications and updates features.
Interactive and engaging design: Depending on the target consumer, the user interface of the application should be determined, the design, colours, font all speak a different story. These factors provide a competitive edge to your LMS system in comparison to your competitor's product. Keep the content very engaging and audience agnostic.
Specification: This is a document that contains all the relevant information like the business goals, the idea of the LMS, mobile app development, vision and mission these all are present in the specification document.
Building the product: After all the brainstorming and discussion is done, time is right for some action, this is the stage where the idea is formed into a product. Get onboard UI/ UX designers who can create the interface and ensure experience along with them and get coders who use their tech skills at work to create the product. At this stage, your people become important thus deciding whether you want to do it in-house or rather outsource the function.
Launch and Marketing support: After all the brainstorm and action stages come the launch of the product, before launching set a marketing team in place that advertises the product and creates a pre-launch buzz in the market, you can put your branding team to polish the logos and brand essentials, create social media pages for promotions, hire remote developers that can provide maximum visibility and share of voice to your product even before it is launched. In the crowd of the LMS industry, your product and marketing should be a pull strategy.
Feedback, Reviews and Analysis: Last comes the most important step, it's time to step back and take a bird's eye view at your product, what are the reviews, what are people liking and whatnot, analyse the feedback thoroughly and put them to research so that you can further make updates to your product, this will ensure your survival in the market, a product that does not modify and repurpose itself, it automatically dies in the eyes of the consumer. Watch out and keep working on the product!
Going In-House or Outsourcing?
Hiring the right people to create your product and share your vision is the most important thus you will have to choose from either doing the function in-house or outsourcing it, both options have their perks.
In House functions:
The increased expense of hiring employees and giving them perks like insurance and care benefits.
Full authority over the content you produce with more creative control on the team, you can expand and build as per your wishes.
Lower risk of information breach and confidentiality clause since the information remains in the company itself.
May not be updated with the latest developments in the industry.
Outsourcing the function:
Outsourcing an agency or freelancers reduces the cost of hiring, training, employee benefits, the agency takes care of all these.
Since the agency full-fledged does this work, you can expect quality work from them and they will also be updated with all the latest trends.
Confidentiality issues may occur, however, reliable agencies always sign an NDA contract that binds them into not disclosing any details.
Boosts efficiency of the product owner, you can dictate and expect professional work from the agencies, will help you save time and achieves your results faster.
So, are you looking for an agency to outsource all your work to? Auxano Global Services can be your destination, we are a new age web and application development company that provides end-to-end resources for all your tasks. We are a budding agency and our USP lies in three points.
We are the best researchers, we deep dive into your business and understand the situation you are coming from.
We take your idea to the next level by getting the right tech solutions into play.
We onboard you from scratch till the deployment of the solution.
So if you are looking for a team with tech expertise and flawless client servicing skills, you can contact Auxano Global Services