The travel and tourism industry is an ecosystem of its own. It consists of several niche industries like Hospitality, Adventure Sports, Local Tourism, Food and so much more. However, since the pandemic hit the industry has undergone a massive overhaul.
Travel in 2020 was restricted and now with vaccination numbers going up and sustainable travel options coming up the industry is bound to make a comeback. Off late travelers have started to "Revenge travel" to make up for all the time they spent in the lockdown. In such a frenzy, tourists are always looking for convenient travel plans that mobile apps offer, thus there is a huge industry for travel mobile applications.
Being a top mobile app development company in the UK, we have immense expertise in travel app development. Our dedicated app developers have ample experience with the latest technology and next-gen features to make your dream travel app. Here we are explaining how to create a Travel app with the latest marketing trends.
Given below are a few stats that will show you the whooping demand for mobile travel apps-
Overall, the online market for travel apps is booming and the next way to travel in 2022 is going to be through a digital-first or mobile apps-only experience.
However, the first step before developing a travel app is to study and understand the market. As we discussed earlier, there are several industries within the travel ecosystem, given below are a few examples.
Planning a trip- Tripadvisor, TripCase
Bookings for train/flight/hotel- Agoda, Booking.com, GoIbibo
Location tracking- Google Maps
Booking cabs and transport- Ola, Uber
Native language apps- Google translate
All these apps are the most popular travel apps that any traveler uses before going on a trip.
Since you've understood the industry, market, business opportunity, and your competition.
It's time to understand the mobile app development strategy for your own travel app-
1. Model Plan for the travel app
Since the industry is a dynamic one, the app should be strategic, one that lasts and survives all the trends. Therefore it's important for you to consider a few very important points like-
What's your app type?
Are you helping travelers book hotel rooms, Are you going to help them plan their trips, provide them guides, provide them local stays. Overall the options are numerous, you will have to select your option strategically and make a wise choice.
What's your USP?
The market is crowded with travel apps but each of them has its USP. What is yours? Social sharing, In-app payment, geo-location tracking- these are a few features that you will have to look at that will eventually become your USP.
Have you studied your competition?
Research and study your competition apps, try to find the demand gap that they aren't filling and get ready to fill that.
2. Monetisation Plan
As per Statista, 96.9% of apps on the android play store are free. However, the number is low for iOS. The point is that if you have to stay in the industry for long you have to start making a viable monetisation plan. Only once your app starts generating profits will it have a business chance of survival. Given below are a few routes of monetising your apps-
Advertisements:
The more popular your product, the higher advertisers pay for slots. You can consider this as your revenue model once your product has built a strong consumer loyalty in the market.
Agency model:
In this model, you play the middleman. For every booking made on the app, you can charge a commission on that. This is a very popular revenue strategy for major players in the industry. Their profits come from the cut that the traveller pays.
Freemium or a Premium model:
Having a freemium model means you can have a few features that are premium that is chargeable.
In-app purchases:
Any additional merchandise or goodies sold in the app can also be charged as in-app purchases. These will work out once your product has hit the market and has built on some fans.
3. Ways to build an app
There are three ways to build an application- from scratch, app-building platforms, outsourcing the process. Each of these ways has its own pros and cons, given below are the same-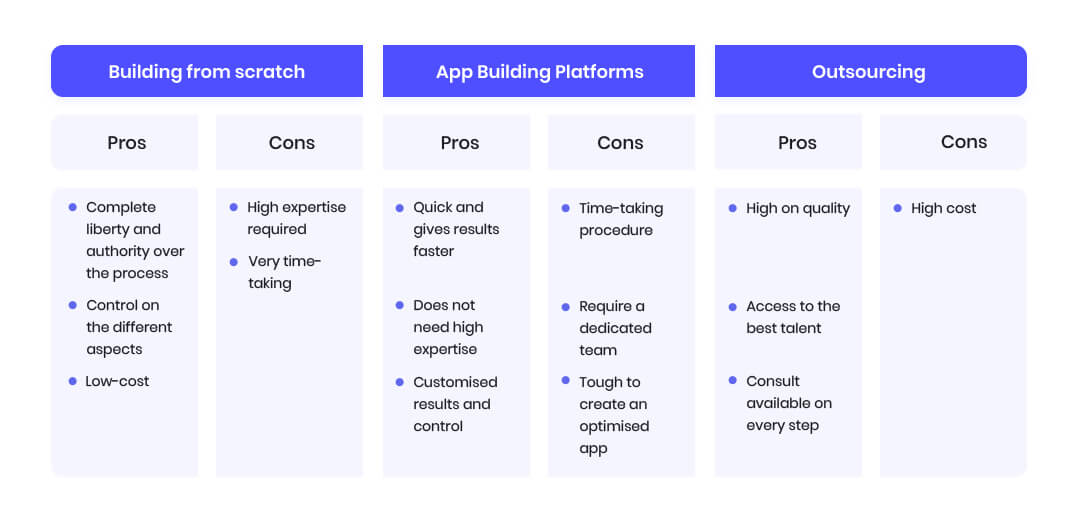 4. Features of the app
Once you've decided on all the initial steps, it's time to decide the features in your app. For a travel app, this can really make or break the game. Given below are a few features you should definitely have in an app-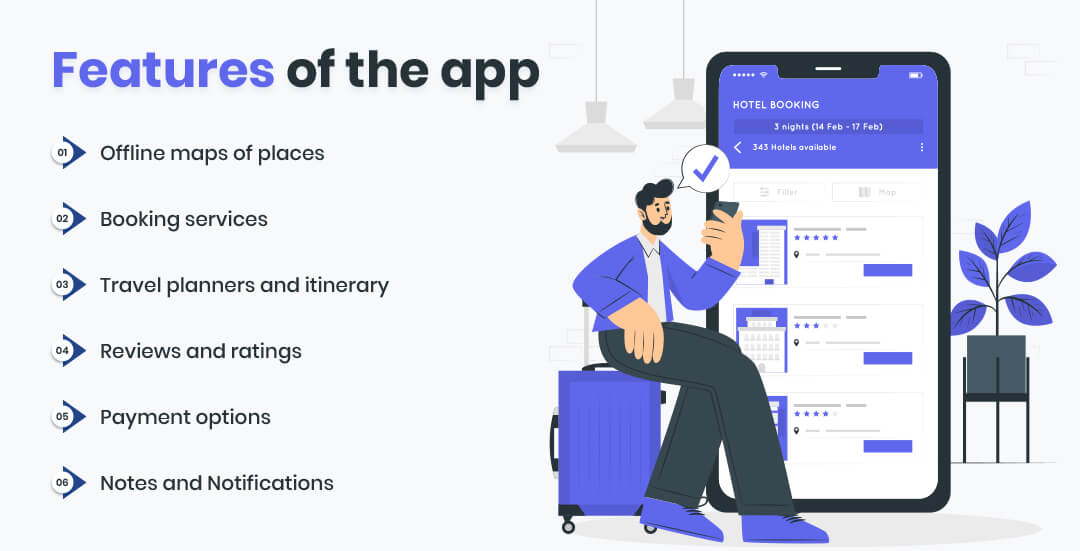 1. Offline maps of places
Often when travellers are going abroad and are not confident about the country and the infrastructure, offline maps help a lot. In case of weak signals and confusion, having a copy of maps on the app is going to be extremely helpful.
2. Booking services
One of the most popular services in an app are booking services. Booking trains/ flights/ hotels is an inevitable part of the process. This feature will not only popularise your app but also help you take a huge cut on the bookings made. However, keep a large database and inventory that will help you gain the popularity.
3. Travel planners and itinerary
A well-planned trip gives joy like no other. Having organized travel plans and itineraries will hook your visitors like no other feature. This feature has a huge scope to scale up, you can add to-do lists, listicle articles, must-carry information, and have sample 2, 3 days itineraries.
4. Reviews and ratings
Most helpful if your app has a hotel booking feature available. Tourists prefer to read reliable reviews and ratings hotels have received. This will help them lock their decisions.
5. Payment options
Since booking and organising costs are being levied, payment options are a must. Have a Paypal, Credit/debit/ Bonus points/ In-app wallet sections for convenient payments.
6. Notes and Notifications
Sending last-minute notifications and reminders about check-ins, train and flight timings helps you impress your users. Over time, this feature has become essential and with COVID and travel restrictions, it's best to have it in place.
Given below are a few more features that are upcoming and will help you create your USP in the space-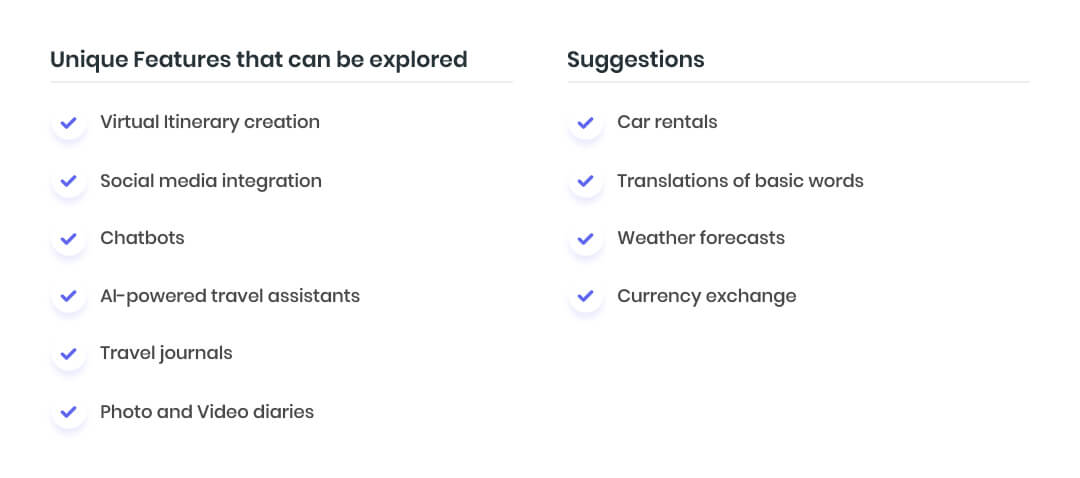 7. Additional considerations
Given below are a few additional considerations that you should keep in mind before developing a travel app.

1. API
Application Programming Interface are platforms to build apps, you can already access a repository of tools like city maps, information, weather data etc.
2. Experience Augmented Reality
Travel is all about creating an experience and AR exactly does that. This is an expensive feature to add but can provide you with an edge over competitors.
3. Scaling the project
Once you launch the app in the market, it becomes important to receive and work on the feedback that's coming to you. Scaling an app based on the feedback you receive is extremely important. Through the functional experience and your USP, both will get a boost.
4. UI/UX Design
The user interface is key for travel apps. It should be functional yet appealing at the same time. The users should feel drawn to the app because of the look and feel.
What is the cost of creating a travel app?
Now let's talk about a crucial aspect, your budget. How much will it cost you to develop a travel app? Now this answer depends on a load of factors like-
List of features
The framework you select- Native, Hybrid, Web-based
Team and expertise you require
The time frame within which you need the app
Based on all these features, one decides the approximate charge that is to be levied to build a travel app. Usually, hiring an app development company is the best and efficient route. An approximate cost of travel app development may range from $10,000- $50,000.

We are a team of 50+ designers and developers based in the UK. We provide all the solutions mentioned above in the blog. We proudly commit to our clients and take the time and effort to understand the solution and industry before the project execution. In our 8+ years of experience, we have developed 100+ apps for 100+ happy clients. Our team is highly professional and our expertise lies in delivering bespoke app development solutions. We'd be happy to collaborate with you!