Game development is a process that can take a lot of time and money. It's no easy task to figure out how much it costs to hire Unreal Engine game developers. It largely depends on their experience level, past work experience, and the cost of living in their area of the world.
It's hard to put a price on what it's really worth to hire Unreal Engine game developers as we all have various budgets. However, you can find some good insight into what you're going to get for your money and the common rates for outsourcing projects.
Market Demand and Project Costs
According to Statista, Revenue in the Mobile Games segment is projected to reach US$124,905m in 2022. Revenue is expected to show an annual growth rate (CAGR 2022-2026) of 8.73%, resulting in a projected market volume of US$174,586m by 2026.
Before you get started on your journey to hire Unreal Engine game developers, it might help to look at the market and have an understanding of what your project will cost. There are a few important details that you'll want to know before you begin working with professional game developers.
First, the overall budget of your project plays a huge role in how much it will cost. The budget is often determined during the pre-production phase of the production cycle when all of the planned details are being worked out before actual development begins. Some mobile games can cost up to hundreds of millions of dollars, while others might only need a few thousand to get off the ground.
Games that are created on the Unreal Engine 4 might cost more to produce. This is mainly due to the fact that it is an engine that can be used across multiple platforms and has many features—more features equal more costs. However, you'll also need to take into account whether or not you're hiring professionals or amateurs.
The Unreal Engine Comes Up With Incredible Features:
Unreal is a fully integrated suite of tools and technologies built to accelerate the creation of games, films, and interactive experiences. The engine builds on more than a decade of industry-leading technology developed by Epic Games, facilitating developers to create graphically stunning games and apps for desktop, console, mobile, augmented reality (AR), virtual reality (VR), and mixed reality (MR) platforms.
The most effective ways to get the best out of Unreal Engine 4 include:
Developing your game in the editor. It saves you time both in development and the final product. Direct manipulation inside the engine or editor gives you power over navigating through your game assets efficiently. With Unreal Engine 4, you can create graphically beautiful games and apps using C++ and Blueprint visual scripting, or you can use the intuitive interface of our Unreal Studio toolset, which supports both major desktop platforms.
The visual tools are used in the editor to quickly build prototypes. With Unreal Studio's intuitive interface, create iterations of gameplay quickly and seamlessly leverage the benefits of a fully integrated suite of tools.
Unreal Engine 4 has a broad feature set that allows you to focus on building great games. It provides high-fidelity visuals and all the necessary functions you need to build amazing games on mobile, console, VR, and AR platforms.
They have a strong community and you'll see that they meet the quality they deliver in their games. However, you should know that you will have some other choices to not just hire one person, but to hire a team of Unreal Engine game developers.
Essentials to be listed down to hire unreal engine developer: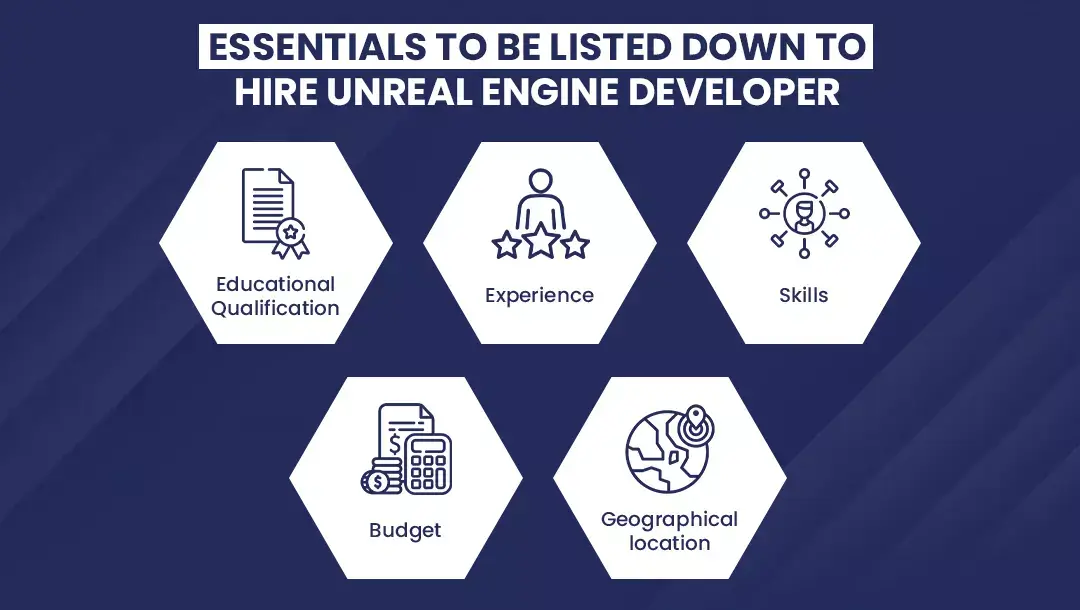 Educational qualification:
They have to have a college degree or education degree in game development. Having academic qualifications, they are more likely to make better games.
Experience:
They should have at least 3 years of experience in the game industry as an Unreal Engine game developer, including 2 years of experience developing projects on a similar engine, such as Unreal or UDK, to demonstrate their proficiency with existing technology and ability to use it in a cutting edge environment.
Skills:
The more skills that they have, the better result you get from them working for your company because having more skills means that they can work on detailing the environment and mesh objects for their game assets. They should be capable of creating and modifying assets using tools like Maya or 3ds Max.
Budget:
Hire a company that can offer you a solution within your budget. If you wanna build your 3D mobile game we would suggest you outsource your project to get it done in an affordable price range.
Geographical location:
They must be located in the global area as it is more advantageous to hire them from there as there are fewer chances for delays when working with them from elsewhere.
Unreal Engine App Development Company – Auxano Global Services
Auxano Global Services has provided game dev support for clients for over 15 years. Unreal Engine game development is one of their exciting services.
If you're looking to hire Unreal Engine game developers to create your own mobile games, then we can surely help you out. Feel free to check out our portfolio and have a chat with us.
In recent years, the Unreal Engine has become a great choice for creating mobile games due to the fact that it is often the most popular and most used engine in the industry. Before you hire game developers make sure they have experience with Unreal Engine 4 or at least some of its previous versions before you begin working with them.
Hire a company that can offer you a solution within your budget. In case you're looking for your next 3D mobile game, we would suggest you outsource your project to get it done in an affordable price range.
Our Unreal Engine Game Development Services:
Unreal Engine mobile game development services enable you to create progressive and engaging 3D Android games that look and feel like they were made with a console.

Our team of game developers uses the Unreal Engine 4, offering unparalleled performance and flexibility as they build on top of all types of platforms, including web, Windows PC, iOS, MacOS X and Linux.
Confidently manage your project – online collaboration tools make it easy to collaborate with other team members from anywhere in the world.
Newly developed Unreal Engine 4 features make this an ideal engine for creating advanced 2D, 3D, and VR experiences that matter.
Equipped with advanced rendering capabilities — including support for physically-based materials — this is the most powerful engine available today.
How Much Does It Cost to Hire Unreal Engine Game Developers from Auxano Global Services?
The simple answer to this question is —it depends on how much you are willing to pay. With the help of AGS, you will get high-quality work done by professional Unreal Engine game developers that will be dedicated to your project and make it a big success.
We have a pricing model that varies depending on the project, which you will find on our site. You can also ask us to provide you with a free quote for your project.
Hourly: The hourly rate of an Unreal Engine developer is about $25-$85 per hour.
Fixed-Rate: The fixed rate for a project is usually priced at $15,000-$40,000, including your project budget and a fixed fee for the project manager.
Milestone-based: Milestone payments will be released only when the developers have delivered something meaningful to your project.
Auxano Global Services is a leading online game development company, specializing in high-quality excellent game assets and tools for their clients. We are one of the top Unreal engine mobile app development companies today. We are also proud to serve our clients with our amazing game development services. We specialize in high-quality excellent game assets and tools for their clients.
Why Choose AGS over other unreal engine game development companies?
We understand that outsourcing is a challenge today, and we want to make it easy for you. We have made it easier for you by providing a list of services that can be outsourced. You are free to decide which ones can be done personally or where our team can provide the best service. You have a budget for your project, and the rest is your choice.

We provide our clients with high-quality services at an incredibly competitive price range. We take care of the communication between us and you throughout the entire process of developing a game; we make sure that there is no error or mistake before we send it to you for review.
We have a long-term relationship with our clients as we understand that it is important for you to put your trust in us by giving us projects that need to be done on time. We make our clients understand why outsourcing is necessary for them, and how we can make it easier for them.
We use state-of-the-art tools to keep track of the budget, milestone payments, and other important details of your project. We are dedicated to making sure you get exactly what you want without any compromises made on the quality of work or outputs.
We use the latest tools and technology: We not only make it easier for you to work with us, but we make sure that what we send you is of high quality.
We have a good network: AGS was born out of a partnership between two companies with great expertise in the field of game development. This gives you the opportunity to partner with us and get a better understanding of how we can help your development project at an affordable price.
Objectivity: All our employees are passionate about making their service accessible to everyone and strive for perfection in every project they take up – this means that other agencies will be at an advantage when competing for your business.
Are you ready to hire Unreal Engine Game Developers?
We are the best Unreal Engine game app development company that offers a high-quality project at a more reasonable price. We strive to deliver better quality products and we believe that this is the only way we can survive in this competitive market.
Let's talk about your project today and make it a reality together with your team! Contact us now!
Frequently Asked Questions
1. Why do so many developers use Unreal Engine?

The popularity of Unreal Engine is high due to its ability to create hyper-realistic environments and offer players immersive virtual reality environments game developers can create cinematics from scratch in unreal engines.

2. Does Unreal Engine have coding?

Yes of course! Coding is done in different languages including C++ and C#. Moreover, Unreal Engine is also equipped with scripting called Blueprints.

3. What percentage of games use Unreal?

Talking about statistics, Unity 3D has a 48% market share whereas Unreal Engine is at 13% in the gaming world. However, the graph of Unreal engine is raising at an exponential rate due to its unique offerings.

4. How much does UE4 cost?

Unreal Engine 4's pricing structure is between  $25-$85 per hour whereas the fixed price would be anywhere between $15000-$40000. However, the total cost is totally dependent on numerous factors. Read the blog to know more!

5. How Much Is Unreal Engine Worth?

Despite being the world's most viral video game, Epic's Unreal Engine remains the main driver of the company's recent $15 billion valuation.

6. How much does it cost to hire Unreal Engine game developers?

The actual cost of hiring an Unreal engine game developer depends on various factors such as region, expertise, development time, game complexity level, and features. To know the exact cost, kindly contact our expert.

7. What are minimum requirements for Unreal Engine 4?

For Unreal Engine 4 games, it is necessary to meet the requirements such as Windows 10 64-bit, 64 GB RAM, 256 GB SSD (OS Drive), 2 TB SSD (Data Drive), NVIDIA GeForce GTX 970, Xoreax Incredibuild (Dev Tools Package), and Six-Core Xeon E5-2643 @ 3.4GHz.