Digital space allows its netizens to roam around freely where there are minimal limitations. This space is now extensively used to shoot up the business revenues. Every enterprise now utilizes software development skills to create reality out of their ideas.
However, there are two ways to go when one wants to outsource IT development services. One is hiring a freelancer while another is to go for a software development agency. Sometimes, choosing a single one based on requirements can be a tough job, so let's get the answers of 'whys and hows' on Freelance vs Software development Agency.
Understanding freelancer and software development Agency
Freelancer works independently for several clients assigning them tasks and providing wages according to them. Generally, these professionals work without any long-term contract. IT Freelancers are inexpensive to hire.
The Software development Agency houses variant experts under a roof for different services required by their clients. Compared to freelancing, hiring an agency might cost more, but also one can get a wide range and reliable services from a team of developers. Software development companies can serve clients due to the adept professionals available from the field.
Comprehending the Benefits of both Sides: Freelancers and Software Development Agency
Freelancers:
Firstly, let us understand how a Freelance Software Developer can help an enterprise to achieve its goals in certain ways.
1. The flexibility of time is a reason why many people choose to hire Software Freelancing Services. These are independent professionals, therefore they don't have to match up with others' time. Freelancers can work according to the demand and can modify their schedules very easily. If anyone has an urgent requirement, then looking for a freelancer is a good choice.
2. Inexpensive compared to many other services. Freelancers charge very nominal and have project-based wages which are generally negotiable. Companies usually charge 25% more than a freelancer, because they have a team and as a single professional the freelancer has all the money he/she asks for.
3. Concentrated Specialization is an aspect connected to a freelance developer skill. They have a clear niche working in and are experts with that. Having the correct set of proficiency at a single specialization, the freelancer works best for projects that are adhered to a singular type of expertise.

Hiring a complete team is like getting the full package, which can't lack anything. The Companies have a wide array of experts working with a clear objective of serving their clients the best. The agency can provide its clients with all types of developers, designers, planners, Engineers, and Project Managers. A Bespoke App development Company is like a huge roof housing – in all the requirements of software development solutions.
Let's have a look at the advantages of outsourcing to a Software Development Company.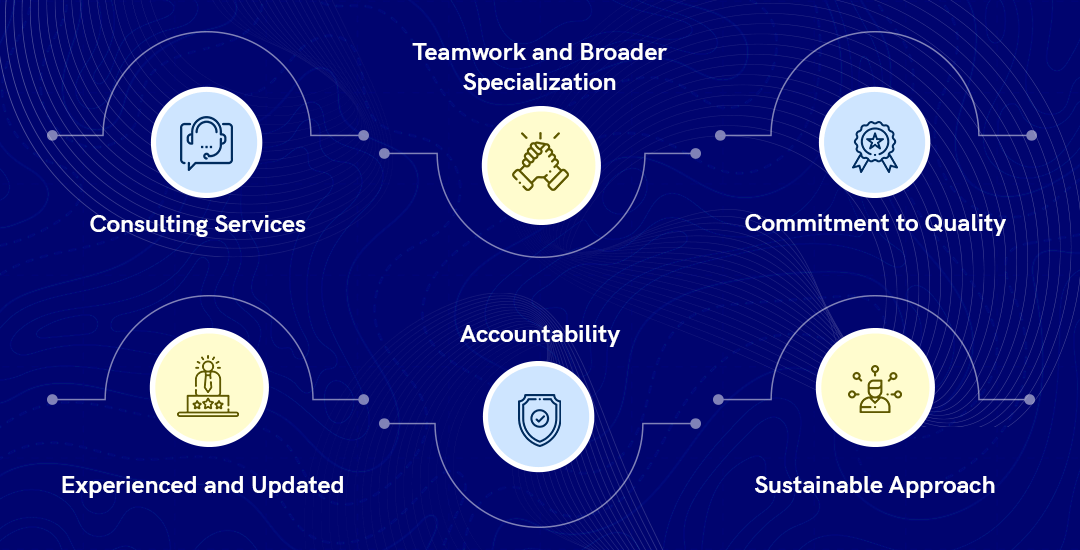 1. Consulting Services is the initial level of any project. The enterprises hiring software services are generally new to many techniques, a consultant can pave a way through and make everything clear.
2. Teamwork and Broader Specialization is what an agency is renowned for in the market. They have distinctive experts working together for a project to make it an immense success. Also, have a way to work collectively to increase credibility.
3. An agency gives Commitment to Quality. All the professionals are hired with a thin filter and they know how valuable quality is in whatever they serve. Software development companies are a lot particular about the kind of delivery their clients are getting, there is no room for compromise.
4. All the professionals in Software Development companies are Experienced and Updated. Experts housed in have years of experience aligned with a curiosity to get their knowledge upgraded to the latest requirements.
5. Accountability is promised as the Secured development and confidentiality of the client's information. They are obliged by legal terms and moral values for not letting trust and reputation down.
6. Sustainable Approach and long-term objective are a Software development company's reputation. They develop apps and software that can survive in this ever-changing market. Technology through which their clients can sustain in competition for as long as possible. Also, they provide maintenance and support services.

Setbacks of Choosing Freelancing Services
Although there are benefits, Working with a freelancer might invite some disadvantages too.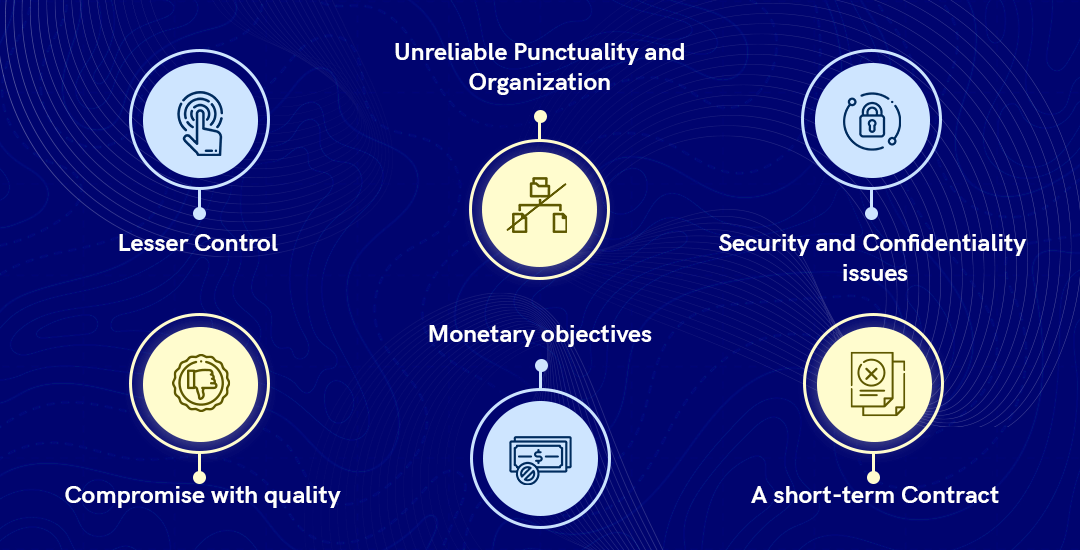 1. Lesser Control is an expected setback for freelancers. They are independent professionals and are tough to gauge and control. Sometimes, due to several reasons, they might even vanish away.
2. Unreliable Punctuality and Organization can be a part of working with a freelancer. They don't have proper management and hence result in lethargy with delayed deadlines.
3. Security and Confidentiality issues result as enterprises have lesser control over these professionals. Security threats and lack of confidentiality might not affect the independently working developer.
4. Freelancers sometimes might even compromise with quality due to lack of time and required workforce to complete a project.
5. A freelancer works with Monetary objectives and lacks sustainable use of innovation and technology. They just want to collect money at the end of a project or task, independently they generally don't have to worry about reputation and repo.
6. A short-term contract is what a freelancer works with. Due to the short-term contract, they lack maintenance and support services after delivery. Freelancing services aren't accountable after the order is delivered and completed.
Setbacks of a Software development agency
1. Inability to exercise total control, an agency is a large group of professionals with their own perspectives. Compared to a freelancer an agency is a little tough to be controlled.
2. High Rates are the result of many experts working on your project. Investment while choosing an agency increases because of large overhead costs, equipment used, Softwares, Insurance, and Office Space.
Conclusion
There are a lot of options one can choose from. Hiring a freelancer or a Software Development company depends on what perspectives and objectives an enterprise are working with. Both the options are good if the project is planned well and the objective to work with is clear. For Some businesses with short-term goals hiring a freelancer can be good, but when one is willing to have a fruitful long-term investment there is no better choice than an Agency.
Due to several reasons, an established Software Development Agency such as Auxano Global Services will always have a lot of benefits over a freelancer except for higher costs. But it depends on what and how much a business is willing to invest. What kind of services they are willing to get in return.
Frequently Asked Questions
1. How do Freelancers Work?

Freelancers work as independent developers without any long-term contract or bondage. They charge accordingly.

2. Why is hiring a Software development agency better than a Freelancer?

A Software development agency is better because of factors like a long-term commitment, after delivery maintenance, several experts under a single umbrella, better services, and selected developers. Freelancers can be good, but an agency with a team of experts working towards a single objective is far better.

3. Freelancers cost less, why should we invest in hiring an agency?

An agency serves a full package with professionalism. Freelancers cost less because they work independently. However, if they work independently they lack expertise in a niche other than their own. For a successful app one needs well-rounded functionality.

4. Which is the best software development Agency?