Overview
WordPress is considerably one of the easiest platforms to develop a website. You can think, there are many other alternatives but still, WordPress is the most significant one. WordPress enables users to create and manage a website effortlessly.
One just needs to find a reliable web hosting service provider, a suitable WordPress theme, and engaging content.
Still, many people choose to hire developers. Does WordPress need coding? If this question arises, however, it doesn't need to be coded but coding facilitates better websites. A developer is well equipped with dexterity to code, and this expertise will help you code an outstanding website on WordPress.
This guide will let you resonate with why a developer for WordPress is a good idea and ways to hire dedicated WordPress Developers.
Market Analytics for WordPress
Before going further, here are some interesting facts about WordPress and its market position. WordPress is the world's most popular Content Management System that powers 34% of websites currently present on the internet.
In the CMS, i.e., Content Management System Market, WordPress has 60.8% of the market share.
Out of all 14.7% of the world's top websites are powered by WordPress. Adding to it more than 500 sites are built on WordPress every day.
Taking engagement to another level, through WordPress users make more than 70 million posts and 77 Million comments each month.
WordPress also dominates Google's SERP with 2.28 million results.
Surpassing Language barriers, WordPress is available in 196 languages.
Defining WordPress Developers
A WordPress developer is the one who is responsible for making custom plugins, templates, and modules for WordPress. These developers make blogs for websites that look more personal or more relevant for the niche.
They can make custom adjustments to the website through WordPress and maintain everything through the back-end. WordPress developers also help in scaling up the website by writing innovative WordPress codes.
Understanding Types of WordPress Developers

There are 3 types of WordPress developers, differing in their specializations. According to the WordPress developer requirements, you can select the most suitable one for you. Here is the list of 3 types of WordPress developers you can choose from.
Only For Coding
These WordPress developers are extremely adept with coding, leaving the skills of designing. They focus on making your website the fastest one that can rank the best. These types of developers solely focus on the technological part of developing a website.
Considering your needs to be focused on a well-coded website or have a designer already you can go for these developers.
Only For Designing
Concerned about User Experience, you can go for developers with adroit skills for designing a perfect website for a great UX. They can develop a user-centric website that goes well with the brand's personification.
A web designer can help you in creating a well-structured website.
A Complete Package WordPress Developer
Thinking that your website needs both ends of development, select a developer that can do both. These types of developers usually charge more but once you hire them you needn't worry. Generally, it's an agency having both types of developers hired.
In case, you want a complete fully-functional website with an expert's touch in everything. Then go for this option of hiring an agency for your contract.
You can choose more from three options. You can have an in-house team but that would incur costs of infrastructure, per head cost, and hiring process. On the other hand, you can have an agency that gives you a complete package. Freelancers are also there, but they are suitable for only coding or designing work, a single person can't be an expert in many things.
Benefits of Hiring a WordPress Developer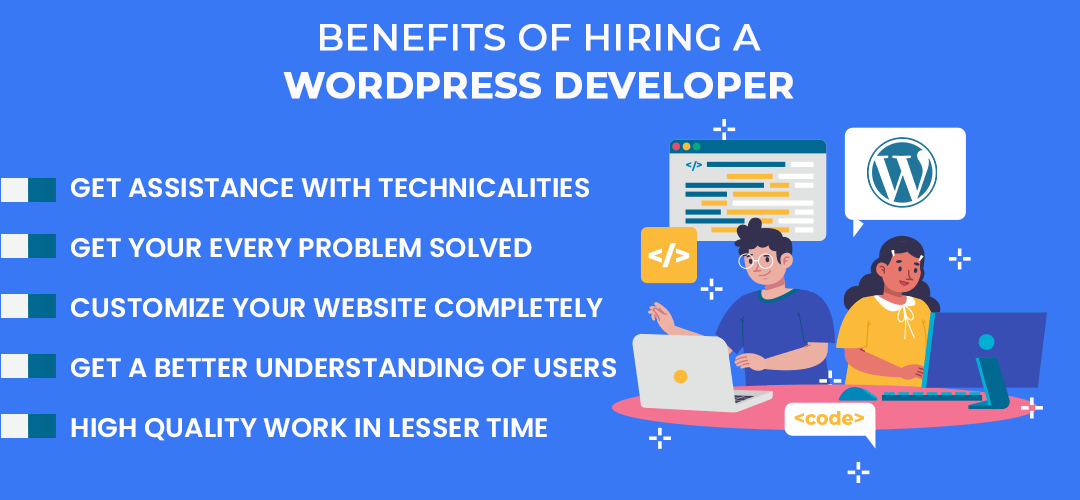 To answer the question, why hire a WordPress Developer? You have to understand the benefits of having one. WordPress can be developed easily, there are no complicated procedures. But when you want to have a website that can cut the competition on SERPs and be highlighted, you have to make this investment. Here are the advantages of hiring a WordPress developer.
Get assistance with technicalities
Hiring a developer for developing a website through WordPress will assist you in creating a technically perfect website.
Especially if you are from a non-technical background a developer is necessary. Adding to the making of the website, the developer can help you with comprehending the technicality for the future.
Get your every problem solved
A skilled developer takes care of the development phase, theme management, code customization, and everything related to the website.
Customize your website completely
When a developer is working for you, it is simple to customize the website according to your needs. You can also choose plugins for your website that are beneficial for your website. The designing and coding part can also be customized.
Get a better understanding of users
An experienced developer gets to know what users expect from a website and develops it accordingly. The developers have the expertise for understanding the user's needs and the client's demands.
High Quality work in lesser time
Developers can deliver what you demand in considerably less time. They are habituated to completing good work within lesser time.
4 Steps For Hiring a Suitable WordPress Developer

Hiring a WordPress developer can be very beneficial, but you have to be conscious of the negative effects. If you want to eradicate any chances of fallbacks, get this step-by-step process right.
Step – 1 – Get your demands clear
It is necessary to get in your head clear what you want from the website so as from the developer. The developer can be hired according to those needs. Even when strategizing the project, the objective of it should be clear.
Several types of developers work for different niches, rather than going for a generalized one it is always better to have a WordPress developer with specialization. Hiring developers with a specific specialization has its benefits.
In order to have a specialized and niche-specific developer, you should have clear objectives in mind. For example, a WordPress developer for a medical niche can work better for hospitals compared to any other developer.
Step – 2 – Be aware of the investment you need to make
Many factors decide the cost the developer would charge. Observe those factors, compare the market price of other professionals or agencies and select the most suitable one. Sometimes the most expensive is not the best, here are some factors that determine the cost.
Service the professional or agency is offering. These services are WordPress customization, Website development, theme development, plugin development, WordPress integration, and many more.
The Type of Website is a major factor. For example, a basic website costs a lower price but a website for an e-commerce objective demands more investment.
The experience and skills of the developer determine the cost they will charge for their work. For this, you will obviously have to pay more for better service.
Step – 3 – Be clear about what you are looking for in an ideal candidate
Searching and filtering will be very easy if you know what WordPress Developer skills you need to have for completing the project. The factors mentioned above should be considered while deciding on the right candidate.
For example, as a start-up, you might not need the same level and type of services as an established company or brand. You should not decide for candidates according to generalized price spectrums.
Step – 4 – Search the developers at the right place
Many portals help you with getting the best of the professionals at your fingertips. These portals connect the best of professionals with clients. You can search for the niche, the level of skills and easily contact them.
There are many options out there such as Toptal, Upwork, codeble and many more. You can select three of them rather than searching everywhere and coming up with no conclusion. Narrow down the choice and research thoroughly.
Skills to look for While you Filter

After getting to know the basics of hiring a WordPress developer, here is a checklist you can refer to while hiring a WordPress Developer. These are the fundamental skills that a developer should have to develop a successful WordPress website.
Apt with PHP or Hypertext Preprocessor
Should have hands-on experience with CSS and HTML
Great level of dexterity with JavaScript
Not very much deep but the developer should be aware of Basic photoshop functions
Must know about BootStrap and HTML
Marketing and research skills
Should have dexterity with Github and Bitbucket
As for Websites, they should know how to utilize SEO the best
Command-line tools and building tools
A good time-manager
Why Choose Auxano Global Services
Looking for an agency that can provide everything you need under a single umbrella, consider this place to be an end to your search. We here provide a team that can assist you in creating a rewarding WordPress website that is fully functional. We have a history of working with a various number of clients and delivering the best.
Experienced WordPress Developers
Providing Next-Gen Solutions
Vast Portfolio In Various Niche
Strong Foothold In WordPress Technologies
Flexible Hiring Process: Hourly, Part-Time, Full-Time
Directly Communication With Resources
Takeaway Note
As we have seen, WordPress is not that complicated. You can make a website on it by yourself. But creating a website that can stand unique demands great expertise. To give your business a fair chance you have to consider hiring a dedicated WordPress developer.
We hope that the guide has made a way for you to resonate with why hiring a WordPress developer is beneficial. Also, step-by-step you can reach your goal of finding the right candidate.
Auxano Global Services is the top bespoke app development company with experts working on projects from all over the world. We are renowned for our sincerity, flexibility, and professionalism. Our experts are filtered from a large industry with a very thin filter of dexterity, expertise, experience, and openness to changes.
If you are willing to give your business a fair chance on WordPress, then contact us now
Frequently Asked Questions
1. How does WordPress work?

WordPress is among the top CMS available. It works by aligning together core files, database, installations, dashboard and creates a fully-functional website.

2. How can hiring a WordPress developer help?

Hiring a WordPress developer helps you in creating a cutting-edge website, as they have a fine understanding of coding, designing, marketing, SEO and languages.

3. What is the cost of hiring a developer?

Typically, a WordPress developer charges $20 hourly. But the cost varies with the requirements of the client.

4. Is WordPress a good platform to build a website?

WordPress is the most simple and widely used website building platform. It is a great choice.

5. If we decide to hire an agency, which one can be the best one?

Auxano Global Services is here as your best choice for WordPress Website development. Considering our skills and team of experts we manifest ourselves to be one of the top bespoke app development companies.