Internet of Things (IoT) is a dominant technology disrupting multiple areas of our lives.  People use a variety of gadgets that are connected to the internet, local networks, and one other on a daily basis, frequently gathering a variety of data. The network of these devices over the web is called the Internet of Things or IoT. IoT is one of the leading innovations we think about when considering technology trends. Do you know? IoT has revolutionized several sectors, including the healthcare division. It has increased the quality of treatments and made them available to more patients.
Let's look at what IoT has done to the healthcare division with some brilliant statistics.
In the healthcare industry, the CAGR of IoT is expected to be 28.6% by 2021.
In 2020, according to Forbes, 646 million IoT devices will be utilized in hospitals, clinics, and medical offices.
The global IoT healthcare industry is anticipated to reach $534.3 billion by 2025, according to Grand View Research.
In 2019, 86 percent of healthcare firms used IoT technology in some way.
Are you craving to know more about IoT in healthcare? Since Auxano Global Services is the leading healthcare app development company, we will reveal the hidden aspects of IoT in the healthcare division right below.
IoT in Healthcare – Benefits at a Glance!
Every year, the Internet of Things is deeply penetrating the healthcare sector. But, why is IoT becoming so popular among healthcare providers? It's because IoT accompanies numerous benefits for the healthcare industry. Let's take a closer look at them.

Rapid monitoring and reporting
IoT allows rapid monitoring and reporting facilities for healthcare providers. IoT helps healthcare practices collect all health data in the smart medical gadget connected to a smartphone app to perform real-time monitoring of a patient's body vitals. The acquired data is then transferred to the cloud platform or straight to the physician for rapid and precise conclusions.
High affordability and end-to-end connectivity
By minimizing needless doctor visits, optimizing resource allocation, maximizing resource use, and planning, the IoT-based healthcare system decreases associated costs dramatically. IoT has automated numerous processes, increasing the efficiency of patient healthcare. Cutting-edge IoT systems, interoperability, mobility solutions, optimized machine connectivity, rapid information sharing, and automated healthcare facilities are streamlining the workflows.
Real-time monitoring, notifications, and alerts
We all know that getting timely alerts can be life-saving when body vitals fluctuate and the situation becomes critical. These medical IoT devices have smart sensors and a rapid notification system. Since they recognize the symptoms of any ailment, they transmit the data to doctors in real-time settings and inform the concerned individuals without delays.
Deliver healthcare services remotely
Doctors may cure patients' ailments on the go thanks to the emergence of mobility solutions in the healthcare sector backed by IoT solutions. Thus, smartphones have become the primary point of contact with doctors when a distant patient lands in an emergency.
The Challenges Involved
IoT has the potential to empower the healthcare sector. But, is it so safe and simple? No! Apart from the immense convenience, IoT in healthcare has a few traps to avoid.

Data Security
Do you know? Healthcare data and history are the private information of patients and specific medical institutions. So, data privacy is crucial in the medical industry.
Unfortunately, the primary issue with IoT in healthcare is its weakened security barrier. It's a cakewalk for cybercriminals to unlawfully access online and centralized IoT data and leak crucial patient information.
To avoid such problems, IoT system providers need to follow security compliances like GDPR and CCPA. However, placing such data protection standards in the foreground might increase the IoT budget for healthcare providers.
Also, the software development agencies must ensure that their IoT system complies with HIPAA and HITECH regulations. These guidelines comprise a slew of rules and regulations about handling patient data more securely.
Protocol Integrations
The healthcare division can foster a flexible and interconnected ecosystem using multiple devices linked by IoMT. However, IoT has no unified communication protocol. Thus, IoT adoption in the healthcare sector is limited and gradual.
Overload of Data
IoT and Big Data Analysis integration has not been successful yet on a large scale. Since IoT healthcare devices collect and process a lot of information, healthcare providers can face data overload and accuracy issues. A lack of Big Data management might lead to inefficient analysis, poor decisions, and system crashes (in the worst case).
How is IoT Used in Healthcare?
IoT has experienced massive adoption in the healthcare sector. Some of the most noteworthy applications of IoT in healthcare are mentioned below.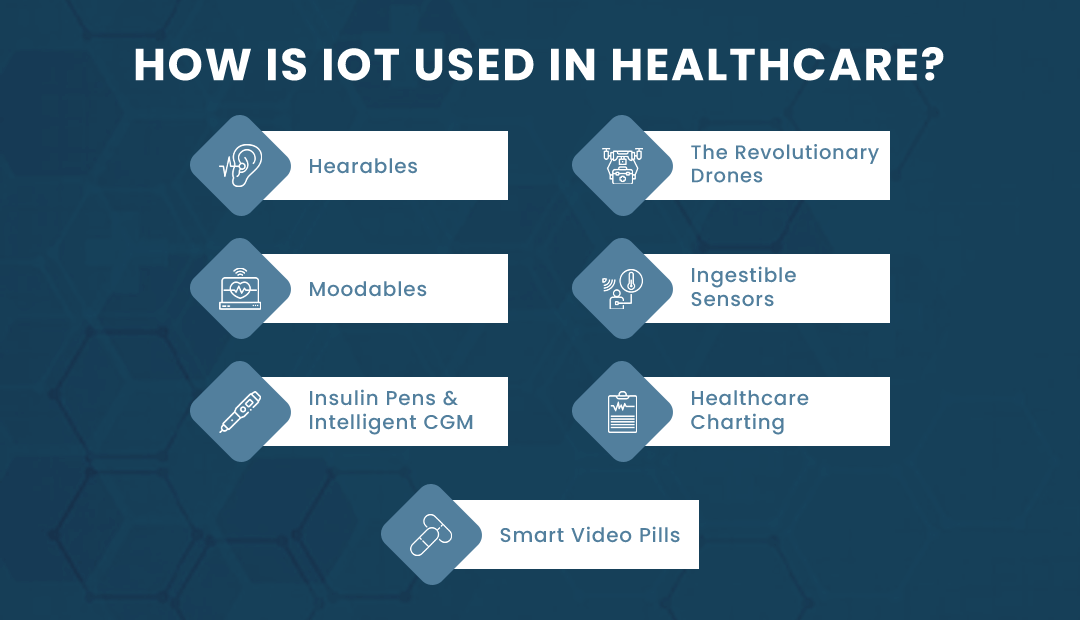 Hearables
Hearables are next-gen hearing aids that have transformed the way deaf individuals connect with the world, thanks to the Internet of Things. Based on Bluetooth technology, Hearables connect to smartphones allowing the user to normalize, apply various filters, and add more layers to the real-world sounds.
The revolutionary drones
Drone technology is another crucial advancement in the healthcare sector based on IoT. Healthcare providers use drones to detect and maneuver around obstacles in their path. Yes, you have guessed it correctly! It can help visually handicapped people navigate in the real world.
Moodables
Patients suffering from depression, anxiety, and other mood-related concerns can benefit from the evolution of IoT-enabled Moodables.  Moodables can be headbands that deliver a low-intensity current to the brain and senses, which improves our mood by lowering anxiety, stress, and pressure hormones. These mood-changing devices raise dopamine and serotonin levels and improve our mood throughout the day.
Ingestible sensors
How about ingesting a sensor that tracks your medications and alerts you in case of internal body anomalies? It's no longer a mirage! Ingestible sensors are truly a gift from so-called modern medical research. Since these pill-sized sensors can identify symptoms and send warning signals in case of fluctuating body vitals, they are revolutionary for diabetic patients and people with cancer history in the lineage.
Insulin pens & intelligent CGM
Insulin pens are gadgets that help patients with high blood glucose levels and diabetes to exchange real-time data with their doctors. These insulin pens test blood glucose levels in a real-time environment, store the data on a cloud server, and share the information with physicians over a dedicated mobile app.
Healthcare charting
Some IoT-enabled devices make the patient's data easily accessible for review, saving the doctor's laborious efforts and time investment. Since they are controlled by voice, using them is highly simple and convenient.
Smart video pills
You might have seen smart pills that see the patient's gastrointestinal tract and colon in real-time via a remote connection and click internal pictures in sci-fi movies. Haven't you? IoT has made it a reality! A smart, IoT-enabled pill goes through the patient's body and sends the internal photographs to a wearable gadget coupled to a specific mobile app to take a detailed and closer picture of the patient's digestive system, helping the doctors make effective decisions and suggest better remedies.
Future of IoT in Healthcare
The Internet of Things for healthcare will be widely leveraged in healthcare research units, surgical centers, government entities, hospitals, nursing homes, and other healthcare centers in the future. It will become a dominant technology in the landscape to treat mild and lethal diseases worldwide.
Some out-of-the-box applications like better patient monitoring, medication administration, telemedicine services, imaging, and overall workflow management in the hospital will propel IoT adoption to all-new heights.
Conclusion:
IoT is opening avenues for better healthcare services for patients. Better monitoring, easily accessible health care services, and round-the-clock doctor supervision – IoT has brought everything into our lives.
IoT has made it possible to create numerous health check devices which can even prevent fatal conditions like a heart attack or hypoglycemia. Experts are expecting innovations to get rolled out by IoT in the healthcare division.
So, are you excited about investing in IoT for healthcare? If yes, you are a step ahead to make your healthcare practice more efficient. Auxano Global Services has extensive expertise working in the IoT for the healthcare niche. We have developed several apps to build an effective IoT ecosystem for healthcare practices. Choose Auxano Global Services and hire IoT app developers at affordable price points now!
Frequently Asked Questions
1. Is IoT in healthcare popular?

Yes! IoT has become the most sought-after technology in the healthcare domain. Numerous medical institutions have leveraged IoT to deliver better healthcare facilities at low cost worldwide.

2. How is IoT benefitting the healthcare sector?

IoT has revolutionized the healthcare sector with numerous benefits. Some of the prominent perks of IoT in healthcare are rapid patient monitoring, affordability, remote monitoring, and alerting systems.

3. What are the challenges in healthcare IoT systems?

Although IoT is highly beneficial for the healthcare domain, it has several challenges like data protection, overloaded data, and compliance management.

4. What are the top applications of IoT in the healthcare domain?

Some prominent use cases of IoT in the healthcare industry are Moodables, Hearables, Ingestible pills, etc.

5. Which is the best healthcare IoT app development company?

Auxano Global Services is a healthcare IoT app development company. Having years of experience in the industry, we understand the benefits and merits of developing premium IoT solutions for medical practices and we never disappoint you with our services. Our team can understand your specific requirements and provide top-notch IoT services keeping in mind the latest trends in the industry. Besides, we have a competitive price point that makes IoT projects reliable and comfortable for you.