Want to develop bespoke accounting software? Most businesses use accounting software in order to manage their accounting-related works. Feature-rich accounting software is always in high demand for all kinds of industries. Read this blog to get proper information on Bespoke Accounting software development, Must-have Accounting software features, Types of accounting apps, Accounting software development steps & Cost to develop a Bespoke Accounting Software. Top software development companies such as Auxano Global Services can develop fully customized accounting software as per the business requirements.
What is Accounting Software?
Accounting software helps businesses maintain track of their assets such as money, real estate, and stocks. Most accounting software systems include a database of these assets. Professionals in financial management will benefit greatly from these databases. The return of investment (ROI) in accounting software is high.
Top 5 Accounting Software Worldwide:
Accounting Software Stats & Market Share:
As per the reports, "The global accounting software market size was valued at $12.01 billion in 2020. By the end of 2026, it is expected to reach $19.59 billion with a CAGR of 8.5% from 2021 to 2026."
"83% of accountants agree that investing in the latest technologies and digitalization is necessary to keep up with the market" by Sage.
"Accounting services generated £21.1 billion for the UK GDP in 2017." Research by CCAB in 2018.
What are some must-have financial operations for your Accounting Software?
1. Automation of log analysis
2. Customer data monitoring
3. Cash flows tracking
4. Processing payroll
5. Audits and reporting
6. Creating a financial statement
7. Managing transactions
8. Invoices processing
9. Tax reports
10. Budgeting
Another major advantage is the use of specialized cash-flow management accounting software. All areas of cash flow management may be integrated with the best accounting software, decreasing the complexity of cash management and enhancing efficiency.
What are the types of Accounting app development?

1. Off-the-shelf software
This is a ready-made and packaged product with standard functionality available. It is simple to integrate into an existing system and does not require any customization. Such a broad package is appropriate for many but not all businesses.
Off-the-shelf Software Benefits:
1. Lower pricing
2. Support and maintenance included
3. Free upgrades available
4. Extended functionality
Off-the-shelf Software Drawbacks:
1. High complexity
2. Extra features of low usability
3. Low flexibility towards market dynamics
4. No competitive advantages
2. Custom software
Standard solutions cannot meet the needs of any company because all processes are unique and necessitate personalization. Outsourcing software development services is the best way to get customized software. You will not be worried if you hire experienced software developers for your accounting software development.
Custom Software Benefits:
1. Highly automated
2. High ease-of-use
3. Highly efficient in catering for your exact needs
4. Quick response to changes
5. Flexibility
6. Competitive advantages
Custom Software Drawbacks:
1. Expensive
2. Prone to greater risks
3. Continuous dependence on the development team

Step 1: Development research
The software development process begins with a profound study since accounting software is created to handle the problems and meet the challenges that are particular to a company. A software developer must gather the background data on the customer, gain an overview of the requirements and priorities of the customer. The project team should focus during this phase on the software development methodology and business difficulties, the traditional roadmap, and options for solutions to the demands of the organization.
Step 2: Creating prototype
During the prototype's development stage, you should respond on the topic of how to design accounting software. However, before employing the coding for your accounting software, you must first create a sample product. You're building a model of a future product, validating your ideas, and determining how well they can manage customer concerns. This phase necessitates deeper collaboration between the customer and the development team that must rely on the former's opinions on software design and expresses their own suggestions.
Step 3: Developing the app
Accounting software developers begin working on your bookkeeping software program once the prototype is complete. The design, which was developed jointly step by step, is now a working system. One of the most important decisions to make is where to host the program.
1. On-premises solutions
This sort of hosting is popular. It comes with additional charges and infrastructure for administering the software. Consider that many on-premises solutions are more expensive and more difficult to upgrade than cloud-based options when deciding on on-premises hosting. In addition, on-premises systems run the danger of exposing insecure databases to the outside world. As a result, many potential IT partners see it as less appealing than cloud-based solutions.
2. Accounting software based on Web
It means that there are web hosts who provide space on a server owned or leased by another company for use by other businesses. The software must be distributed on the distant server, and billing services are provided by the hosting firm. Web-based accounting software provides clients with greater freedom than on-premises software, allowing it to be set more flexibly and easily kept up to date.
3. Hosting Cloud
This option is better suited to the needs of small enterprises with few or no on-premises environments. As a result of providing hosted software as a service to end-users, businesses avoid the need for costly infrastructure expenditures in overheads. Accounting software as a service (SaaS) for small firms can provide considerably better scalability and flexibility for the operation of accounting systems.
Furthermore, when working on cloud-based software, a development team will not be constrained by inflexible pre-configured methods.
Step 4: Release and Maintaining the app
After launching the application, you must be prepared to allocate a budget for the rental of server capacity regularly. Furthermore, if the application requires new features, you will need to enlist the assistance of developers and, as a result, allocate a portion of your company's budget for this.
How much Does Accounting Software development cost?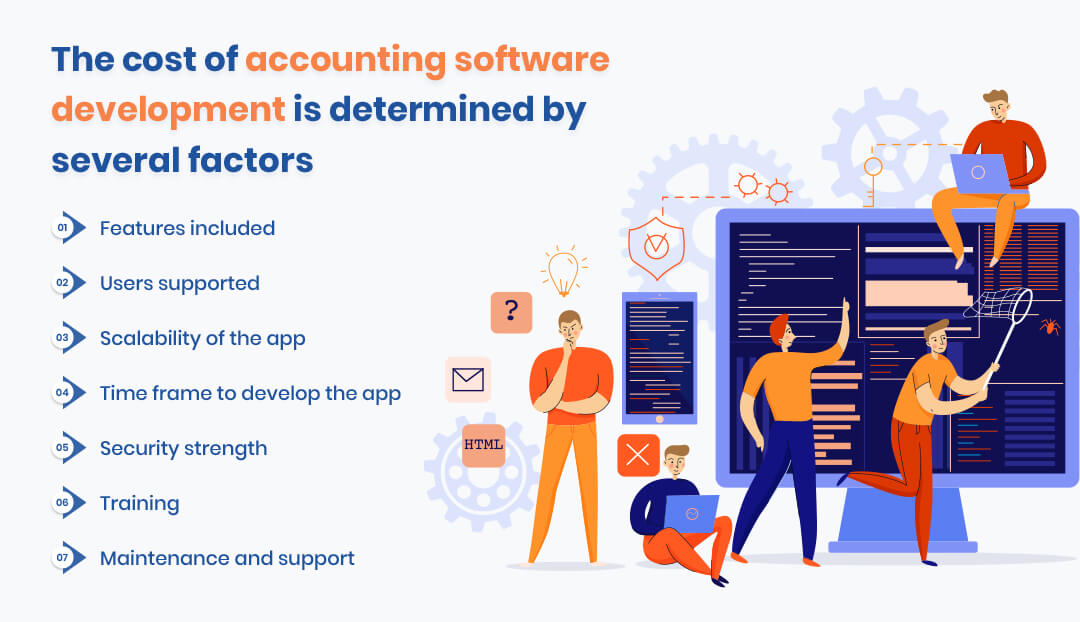 Accounting software development cost varies by multiple factors including the functionality, size, platform, and many other important factors. However, if you are planning to get the software developed from scratch, it will cost around $10,000 to $50,000.
Auxano Global Services is a custom bespoke software development company in UK that specializes in a variety of software development projects. We have experience in creating applications for finance, healthcare, sports, and small business domains. We provide the best design, development, and marketing solutions to our clients. We offer a cutting-edge solution that helps businesses achieve their goals through exceptional services. We employ a group of analytical innovators and creative engineers who use lessons learned from one industry to drive transformations that are deeply rooted in the business context.