With the arrival of on-demand video streaming apps, television has become a thing of the past. These are appealing to consumers because they provide them complete control over the films and allow them to view shows and videos of their choice without interruption. Many individuals have already lost interest in the large black box and are increasingly going to the internet to watch their favourite shows, series, and movies.
The number of video streaming mobile apps that are currently accessible for download in app stores has also increased dramatically. Catering these applications features a lot of content for users to choose from and save to watch later, catering to their needs. So, today you'll learn everything there is to know about video streaming app creation and app development costs.
What is an App for On-Demand Video Streaming?
Let's study what on-demand video streaming is before we discover how to develop Bespoke video streaming mobile apps.
A Video on Demand (VOD) mobile app is a system that allows users to choose their favourite movie, TV show, or web series and watch it at any time. All you have to do is plug in your devices, such as a TV or a laptop, and start watching whatever you want. All you have to do is download and subscribe to one of the video streaming apps.
Why Invest in Video Streaming Mobile App Development – Market and Statistics
On-demand video streaming applications are the latest craze. These apps are experiencing unprecedented growth because of increased internet capacity and rising demand. Currently, 51% of houses in the United States of America use this platform, with about 100 minutes of video viewing every day. In terms of the number of people that subscribe to such video services in the country, about 182 million people did so in 2019.
Take a peek at some video streaming mobile app statistics: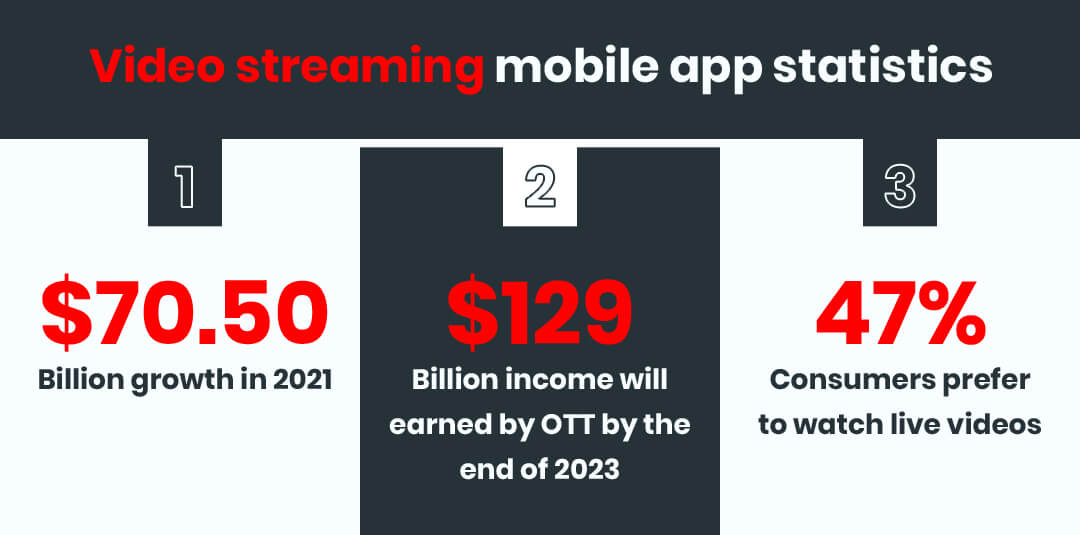 By 2021, the live streaming business will have grown to $70.50 billion.
According to projections, OTT will earn $129 billion in income by the end of 2023.
According to a survey done by the Interactive Advertising Bureau, 47% of consumers prefer to watch live videos over pre-recorded ones.
According to eMarketer's most current estimates, users' time spent watching video content has increased significantly. In 2020, it will have increased from 83 minutes to 92 minutes.
The statistics show that the industry is growing, based on the estimates and figures provided above. This has opened up new possibilities, and people may consider investing in the development of such programs. On phones and other gadgets, the entertainment media industry will be the next big thing. It is advantageous for people to make a substantial investment in the field to create a reasonable amount of revenue.
In terms of money spent on creative video content in 2018, more than $90 billion was invested. By the end of 2023, it is predicted that the figures would have risen to $100 billion.
The procedure for creating a video streaming app
The following are the basic processes in creating a live streaming mobile app:
1. Making mockups and wireframes for your app or new features you'll be adding to an existing app.
2. Technical and functional specifications are written.
3. UI/UX (user interface/user experience) design.
4. Developing or modifying your app's backend and API.
5. Adding features to an existing app or developing the frontend.
6. Bringing the backend and frontend together.
7. Performing quality control tests.
8. The application's release.
Some of these stages occur at the same time; for example, testing is required at every stage of functional development to ensure that the frontend and backend interact properly.
Codecs
Streaming necessitates a high level of performance from your backend, as it must transfer a large amount of data every second. To do so, your server will need a lot of RAM, and a user's device will need to be able to receive this data stream.
Codecs are the most efficient technique to compress data and transfer it faster.
Device
Because different devices utilize different codecs, you must ensure that your server can select the appropriate format for sending a video. Consider your target demographic and platform before deciding on a codec. H.264 and H.265, the most common compression standards for live streaming, are supported by both Android and iOS. Other formats that could be used include
Viewer restrictions
You'll need to figure out how many people will be able to view one broadcast at the same time. This will determine your backend requirements as well as the technologies you'll employ. Keep in mind that most people will just close a broadcast if it becomes stuck.
Things that affect streaming performance should be taken into consideration:
Processor decoding and recording time
Video and audio processing
Server disc space and user bandwidth
What steps should you take to make your video streaming app a success?

While the industry isn't yet saturated, some tech behemoths have already made a name for themselves. Facebook and Snapchat, for example, have incorporated this option as an add-on, whereas Stringwire and Upstream are developed expressly for live streams.
There's no need to create a distinct app if you merely want to use live streaming for your business. As a terrific addition to your business model, you can simply integrate the live streaming capability into your existing application.
You can build your streaming capabilities to obtain views and monetize your streams if you don't want to publish your content on Facebook or YouTube.
But don't overlook analytics: they're critical to the success of any mobile app or web product. Examine how your viewers react to live feeds. You can build your streaming capabilities to obtain views and monetize your streams if you don't want to publish your content on Facebook or YouTube.
The following are the major elements that influence the price of developing a streaming platform:
The higher the expense of developing live streaming software, the more features you wish to include and the more advanced these features are.
Rates of design and development
The length of time it takes to create an app is determined by its size and scope. Developers' pay ranges from $15 per hour to over $200 per hour, depending on their country's income level.
Testing
QA testing guarantees that any potential issues are constantly monitored. Services provided by third parties. Various third-party services may be required during the development process.
Upkeep of software
The app will need to be updated and maintained even after it has been released.
Different apps have quirks that necessitate a unique strategy. The more information you give the developers, the more accurate their estimate will be.
Conclusion
Live streaming apps are gaining popularity, and video material appears to be the future of entertainment, business, and education.
There are numerous applications for streaming apps. Contact Auxano Global Services for more information if you have a fantastic concept for a live video streaming app, want to add this functionality to an existing app, or just want to learn more about how to develop a live video streaming application. With our technical know-how, we'll create a fantastic video streaming app that will appeal to a wide audience.