Remote working culture has become a mainstream trend across industries. It became widespread since the pandemic registered its presence among us. Everyone praises the features offered by the work-from-home theme to the employees, and the latter seems to enjoy the "new normal". However, the underlying scenarios are a bit more complicated, especially for employers.
How to find talented web and mobile developers and verify their skills remotely? Auxano Global Services gets you covered if something similar bothers you. Here are the proven steps you need to follow to excel at hiring remote developers for your purpose. Stay tuned!
Ask Why You Need Remote Web and Mobile Developers

First things first! You should ask yourself the need to hire remote developers for your company. Such clarity at the beginning gives you the right approach to select the most complementary alternatives in the upcoming future.
Everyone knows the extensive use of technology in completing a project remotely. So, are you hiring remote employees to optimize technology implementation and outcomes in turn?
Remote employees are highly adaptive and flexible enough to accommodate the sudden change of plans. Ask yourself whether such flexibility is what you want to achieve by engaging a remote team.
Despite the pandemic crisis, businesses wish to achieve continuity even in the work-from-home model. So, do you want to hire remote developers and stay on beat with the new-normal scheme?
Gear Up for a Rigorous Screening Process

Building a remote workforce is beneficial and all only until you're screening the applicants rigorously. Understand that each of your employees must reflect your business virtues, abide by professional ethics, and possess in-depth domain knowledge. That's what you should look for when onboarding remote developers in your company.
Consider evaluating employee skills closely and personally. Realize that consistent communication between employees and the company is a must to track project progress efficiently when working remotely. So, never overlook the applicant's soft skills along with technical knowledge when hiring them.
Choose an Appropriate Destination when Hiring Remote Developers.

The choice of destination affects the overall outcome of hiring remote web and mobile developers for your projects. Again, there's a bunch of questions to ask yourself:
Do I wish to avail of low latency in offering developer support to the clients?
Is my company okay with the language barriers?
Do I want to hire the most inexpensive remote developers?
Am I willing to accommodate the large differences in time zones?
These are worth considering queries to comply with when selecting a destination of hiring remote developers for your enterprise. Pick out a country having the least distance from your customers if lower support latency is an issue for you. Similarly, look for nearby nations if time differences are a headache to your firm.
You should research out the general developmental charges across nations if costs are the priority parameters for you. Take a look at the standard price points in India, the USA, Canada, UK, and Australia.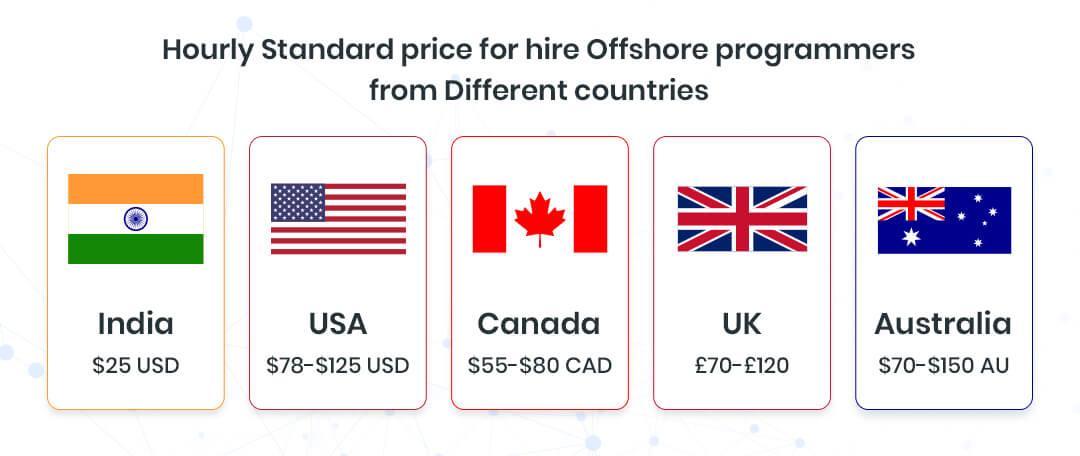 India
Are you looking for affordable developers across the above countries? India is your paradise destination! Talented Indian developers, having an hourly wage of $25 have become the most sought-after talents around the world.
United States of America
You should know the standard developmental cost in America if you wish to hire remote developers from the USA. Well, it lies between $78-$125 per hour mostly, and the exact charges depend on the developer's experiences.
Canada
Yet another popular hiring destination after India, Canadian developers ask for an hourly compensation between $55-$80 Canadian dollars. You can afford their charges if higher qualifications are a pivotal aspect for you.
United Kingdom
A diverse pool of premium web and mobile developers resides in the United Kingdom. You can avail of their expertise by offering somewhere between £70-£120 per hour
Australia
You can go for Australian developers if the price is not as important as other factors in your checklist. Working with developers from Australia will cost you anywhere between AU $70-$150 per hour.
Approach on Your Own or Hire Developers through an Agency

At this point, you need to decide whether you want it the simplest way or do it all on your own. You might require working extra and still risk accessing low-quality remote developers when approaching them on your own. However, you can omit such hardships by collaborating with a honed web and mobile development agency.
Hiring dedicated developers from an experienced mobile app and web app development company like Auxano Global Services simplifies the task for you. From approaching the rarest talents to verifying their skills, such agencies do it all on your behalf. Result? Rapid hiring of high-quality remote developers for your business.
Keep a Questionnaire Ready with You
Regardless of the hiring mode, you will have to brainstorm a bit when it comes to finalizing developers to join your remote team. Prepare a questionnaire comprising all the queries you want the developers to answer. Besides, look into their expertise by asking some domain-related questions.
Take a tour of their portfolios and analyze their previous projects. Such a thorough analysis helps you understand if the developer is one you were looking for or not. Also, you will get a taste of how they work and execute strategies in real life.
Inform them About Your Remote Working Terms and Conditions
Different companies have various remote working terms and conditions. While some businesses expect the developers to share project status every hour, others want them to respect the deadlines without providing hourly reports. So, remain transparent with your terms from the first day and ask the developers if they are comfortable complying with your conditions.

That's all! These were the most successful steps to select remote developers for your web and mobile development projects. To get further consultations and hire dedicated developers, connect with Auxano Global Services and take away superior distant developers for your purpose. We house robust developers belonging to different geographies and having high-class experience in imparting life in simple to complex web and mobile development projects. Contact now!