A few years ago, shopping from your home was a dream. Thanks to smartphones, this imagination has transformed into a popular reality nowadays. Retail stores are confined to our mobile devices, allowing us to shop with our favorite businesses from anywhere and anytime.
Do you want a pair of customized shoes? Or, do you need a dress from your favorite brand? Everything is available at the convenience of your home.
What lies at the core of such a revolution? Yes, you've guessed it correctly! The retail apps. Retail applications mutually benefit retailers and shoppers with better business and optimum comfort. A low-key company with no bespoke retail app solution has no future.
So, if you haven't boarded the flight yet, it's time to spring into developing retail applications for your business. Auxano Global Services is the leading retail mobile application development company, having expertise in building various shopping apps for retailers. We can help you develop a customized retail solution for your business. This article will give you the complete details on creating a customized retail app from scratch.
Before we dive into the retail app development process, let's review some concrete statistics to inspire ourselves.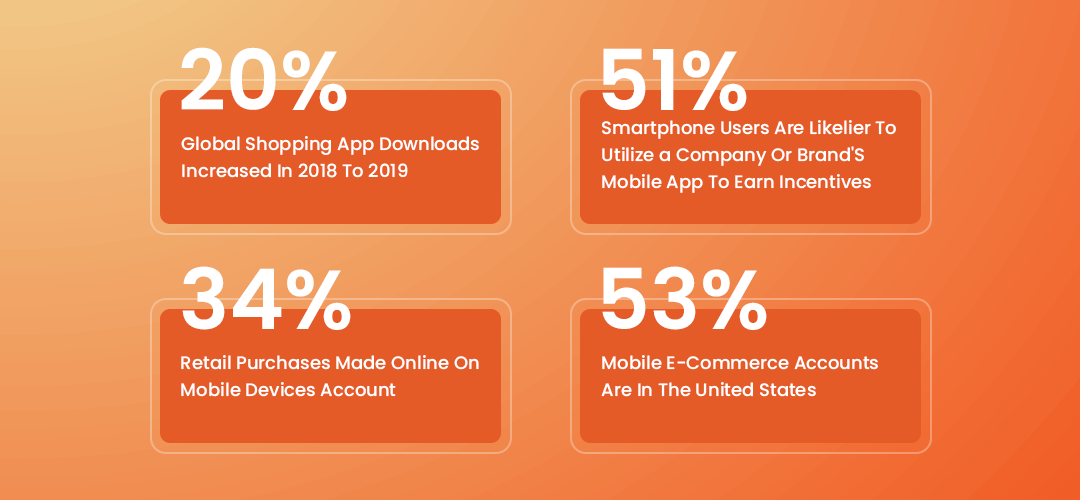 Now you are ready to understand the retail app development process in detail. So, without further ado, let's dive into the comprehensive retail app development guide below!
A Brief Overview of Retail Apps
Mobile trends have become the destiny of numerous industries. Everyone tracks mobile trends and app revolutions to address customer demands and walk in tandem with the industry. From retail startups to small businesses and massive enterprises, developing retail applications has become a leading trend.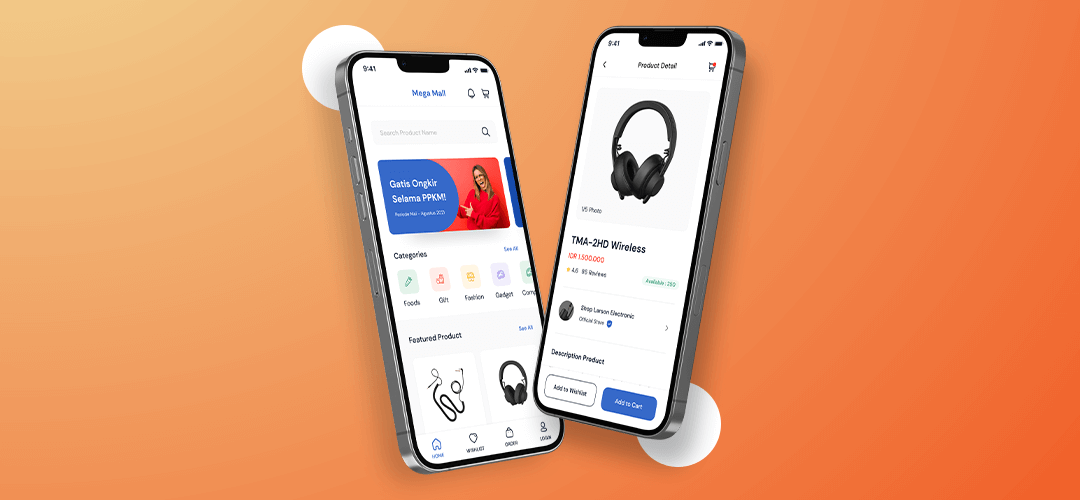 Applications for retail establishments are proven to tremendously increase customer satisfaction and provide them with an at-home shopping experience. Several benefits like user reviews, hassle-free checkouts, and 24/7 availability encourage customers to use these apps. Thus, retailers feel pressure to access bespoke retail mobile app development services and avoid leads from getting disappointed.
A comprehensive retail app saves businesses from missing out on some leads. Since their mobile storefronts remain consistently available, the customers can browse through their range and place orders even at midnight. Therefore, retailers should prioritize developing a robust mobile app for their business with tons of features and a navigable UI for all audiences.

Pros of Developing a Retail Apps
Before you go down to the technical aspects, you must know the benefits you'll get by developing a retail app. Here are some of the pros businesses can access by developing retail apps.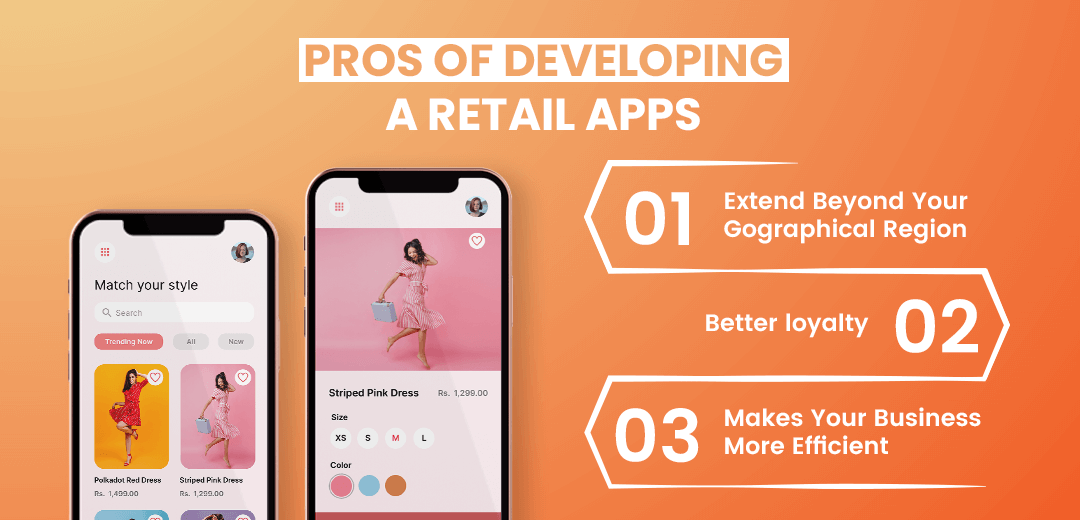 Extend Beyond Your Geographical Region
From any location on the earth, you can successfully sell your products and promote your business from any location on the earth if you have a retail app. So, you can interact with a global audience and sell your products anywhere without staying confined to your geographical location.
You can showcase your entire product range to worldwide customers. It helps your business become more credible for the leads who can see your diverse customer base. Overall, your business skyrockets with such a global app architecture.
Better Loyalty
Retail apps are proof that your business prioritizes customer experience and convenience. Also, these applications are transparent and allow other customers to leave reviews. Such a genuine model helps your business to look more credible among the customers. Consequently, they become loyal to your brand.
Retail mobile apps give you a sizable platform to develop and grow brand loyalty for your products. So, if you are struggling to enhance customer loyalty, you can give a shot to retail application.
Makes Your Business More Efficient
The retail applications have a robust backend, allowing you to well-manage and track your inventory, checkouts, and sales. These metrics can help you run a better and more efficient business.
Also, you can integrate analytics into your retail apps. For example, you can use application data to understand the market and consumer demands. Also, you can leverage data-driven insights to make informed decisions and take your business to new heights.
Steps to Develop a Retail App
It's time to put the elephant in the room under the limelight.
Developing a retail app isn't simple until you know all the steps involved. You have the slightest chance of failure if you strictly follow the below steps and develop a robust retail app. So here's what you need to do!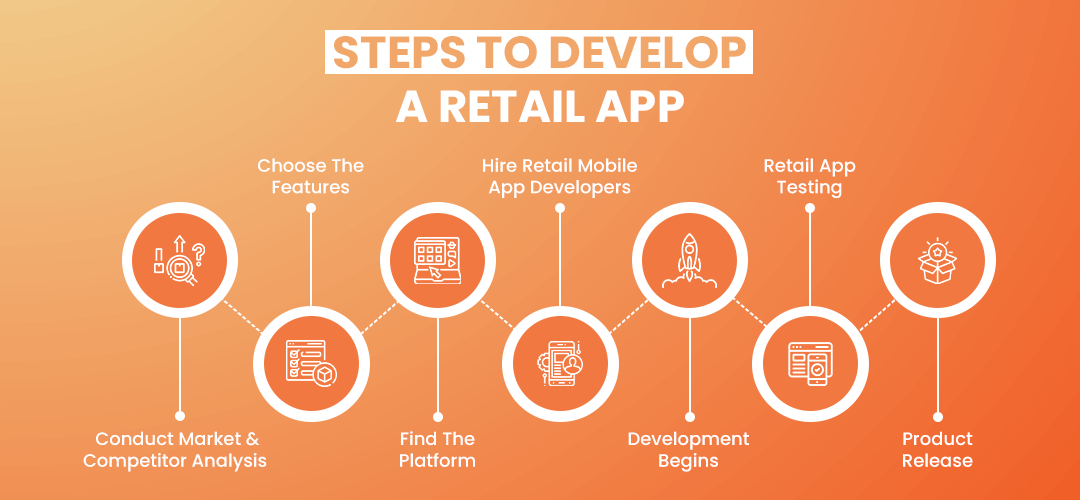 Conduct Market And Competitor Analysis
The first step to retail app success is having complete information about your market and competitors. You can search which apps work in your industry to understand what your customers expect from your mobile platform.
Choose The Features
The performance of your digital app depends on the integrated features. So, spend considerable time understanding what features will work for your retail app. For example, it's better to create a handy list for future references.
Find The Platform
Your retail app can be native or cross-platform. If you go for the latter model, you don't need to think of compatible platforms. However, for native app development, choosing between Android and iOS is essential.
Hire Retail Mobile App Developers
By now, you have done the homework. So, it's time to approach the experts. Hiring mobile app developers from the best app development companies will give you access to their experience and technical expertise.
Development Begins
Your app goes to the development state after prototyping and approvals. The developers will maintain transparent communication with you and provide frequent project updates.
Retail App Testing
Finally, the developed app reaches the testing phase where app testers ensure consistent performance by fixing bugs and removing errors.
Product Release
After your approval, your retail app gets ready for publishing. So, let your users enjoy the platform and give you more sales than ever.

Must-Have Features in Retail Applications
The app features will make your business stand out. So, hire the best mobile app developers to help you integrate the following elements into your mobile platform.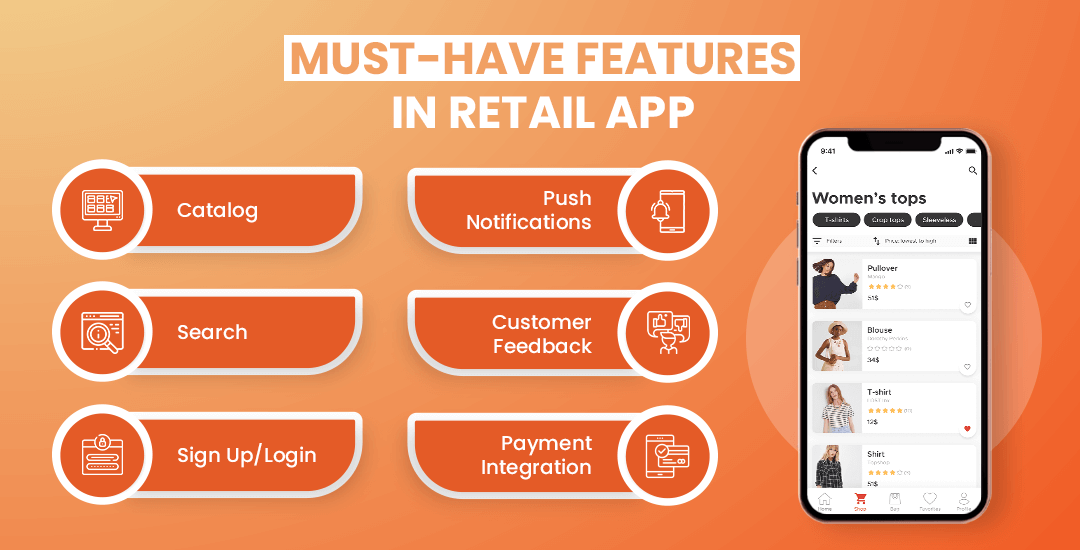 Catalog
Catalogs arn essential to delivering a smooth customer experience and high navigability. Every item in the catalog must be easily accessible to users and must be cleanly divided into categories. Furthermore, every product category should have additional features like discounts, new arrivals, bestsellers, etc. for more user convenience.
Push Notifications
Push notifications are straightforward ways to connect with your audiences. You can send essential app updates, announcements, offers, and other information to app users through notifications. Also, you can re-engage your customers who have abandoned their carts through notifications.
Search
Scrolling through the wide range of products may prove to be difficult for users. Allow your customers to search for products by entering particular keywords associated with the goods. By enabling users to find goods quickly, the search bar's integration will prevent people from getting annoyed by using a complex and hard-to-navigate interface.
Customer Feedback
Customers will find your retail app more reliable if you allow them to write genuine reviews and leave ratings whenever they purchase. In addition, you can drive your sales to optimum levels through the feedback section, as most consumers read reviews before finalizing an order from a retail application.
Sign Up/Login
Users can get into your app by successful signup and login. However, they might discard your app if the registration process is too complex. So, keep the steps simple and give them more options to register with your app via email IDs and social media handles. Also, it will help you prepare your mailing list for futuristic email marketing campaigns.
Payment Integration
There's no use in creating a retail app if your users cannot pay for their desired products and shop online. So, integrate various payment gateways in your app for seamless transactions and order placements.
If you are looking for a top retail app development agency, to hire retail app developers, your search has ended with Auxano Global Services. Here's how we can help you!
You can hire proficient developers from us to create best retail software development solutions.
Having years of experience, we can consult you on a retail app development roadmap with the highest success rates.
Our company has developed numerous retail apps in the past. So, we are qualified troubleshooters for the en-route challenges.
We deliver end-to-end maintenance and support offerings to keep your app up-to-date every time. Hire best app developers from us now!
Conclusion:
Retail applications are the future. It's high time to push your business to the heights of success by leveraging robust retail applications. Do you need our assistance to help you build the best retail mobile solutions? We are just a call away! Reach out to the AGS experts for a detailed analysis of your requirements and hire skilled developers from us. Hire top mobile app development company now!
Frequently Asked Questions
1. What are retail apps?

Retail apps are mobile storefronts, allowing customers to browse through a brand's entire collection, read customer reviews, pay online, and order products using their smartphones from the convenience of their homes.

2. What are the benefits of developing retail apps?

Retail apps bring a host of benefits for retailers. These applications improve customer experience, loyalty, and satisfaction. Also, they enable retailers to harness all leads, increase their credibility, boost sales, and generate more profits effortlessly.

3. What are the must-have features of a retail app?

Some of the top features a retail app should have are – easy registration, catalogs, search bar, payment integration, customer feedback, and push notifications.

4. What is the cost required to develop a retail app?

Although the exact cost depends on the specifications of your app, the approximate range will be around $25,000 – $30,000 to develop a tailor-made retail app for your business.

5. Which is the best retail app development company?

Auxano Global Services is the best retail app development company. Having years of experience in the industry, we understand the benefits of retail apps for businesses. We can do our best to leverage the latest technologies to create robust retail platforms for targeted audiences. Our team knows your specific requirements and provides top-notch retail app development solutions to help you lead the race. Need our competent app development services? Get in touch with us soon!