The stock market is an overwhelming industry, isn't it? Thankfully, the entire stock market has dropped into our smartphones nowadays. All you would require is to download a fantastic app like Hargreaves Lansdown and begin your investment effortlessly. Besides benefitting the investors, these applications assist the stakeholders in generating immense revenues.
So, why not develop a stock market app from scratch? Sounds brilliant, right? But there's a small problem. How do you develop a stock market app, after all? We've got you covered! Here is the complete blog that will guide you with developing a stock market app from scratch. Keep reading!
What is a Stock Market App like Hargreaves Lansdown?
Hargreaves Lansdown is a leading name in the stock market industry. It is witnessing an ever-expanding user base and significant growth. Inspired by Hargreaves Lansdown's success, many businesses wish to develop similar experiences and generate massive income. But what is Hargreaves Lansdown, after all?
Apps like Hargreaves Lansdown lets users invest in the stock market using their smartphones and stay informed of all movements. These platforms are the future of the trading and stock industry and are rapidly getting mainstream.
Top 5 Stock Market Apps in UK:

Why Should You Consider Developing an App like Hargreaves Lansdown?
Are you not confident enough to develop an app like Hargreaves Lansdown? Below you will find some groundbreaking reasons that will compel you to build a stock market app at the earliest. Let's dive in!

1. Massive Profits
The stock market is one of the most profitable sectors out there. So, developing a relevant application can benefit you tremendously. Besides, the profit points are likely to go up consistently. A stock market app can be the best way to churn huge figures even in the future.
2. Investors Seek Convenience
Gone are the days when the stock market was in chaos. Nowadays, investors prefer convenience and comfort and want to invest using their smartphones. It's the best time to cater to their expectations by offering them a safe platform to play their cards in the market.
3. Lesser Competition
Lesser competition implies better opportunities. Thankfully, the stock market app industry has fewer competitors and higher scopes for app development. So, it's the most optimum time to develop a stock market app and create revolutions in the industry.
Besides, more advantages make stock market apps like Hargreaves Lansdown the best option for app development investors. Now, let's get back to the main question. How do you create a stock market app and generate revenues? Below is your answer. Let's get into it!
Developing a stock market app is not a cakewalk. You require several resources and skilled app developers to curate a refined experience. Furthermore, the app should have exceptional features to woo the investors, letting you overpass apps like Hargreaves Lansdown. So, Auxano Global Services shares all the steps needed to develop a stock market app like Hargreaves Lansdown from scratch.

1. List Down All the Features for Stock Market App
From essential to advanced features, you require listing down all the functionalities before developing the stock market app. It's essential for your in-house and hired developers to know the expected features even before gathering the relevant resources. Are you wondering about the features required in a stock market app? Here is a detailed list.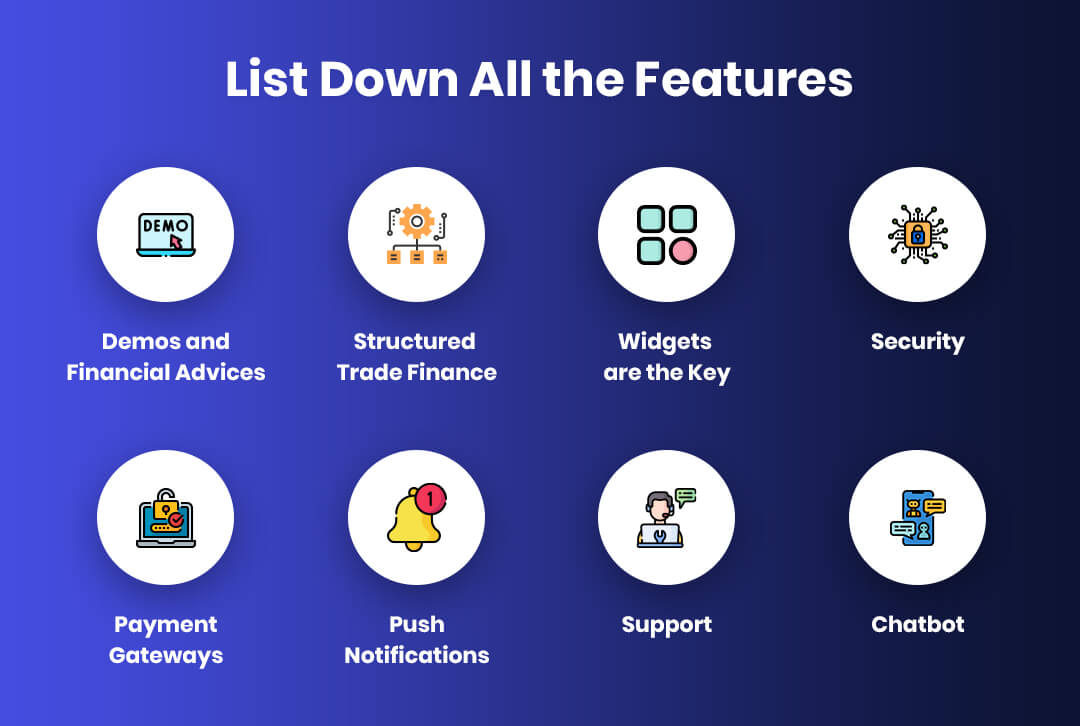 1. Demos and Financial Advices
New investors join the stock market every month. They may or may not have enough knowledge about the industry but are willing to invest their capital. So, your stock market app should have simple demos and advice to get them started in the market at the earliest. Also, they must get consistent suggestions from industry experts to learn about smart moves that can save them from massive losses in the future. Essentially, such functionality has become a must-have for the stock market and trading apps nowadays.
2. Structured Trade Finance
Most of you already know about Structured Trade Finance (STF). For those who don't, STF allows novice app users to invest their funds with an entity and let the party decide about the allocation of capital. All they worry about is earning profit from their investment. STF has become a crucial entity in stock market apps these days. Several already-established applications leverage such a feature and generate massive revenues.
3. Widgets are the Key
Believe it or not, widgets lie at the core of stock market apps. Ensure that you focus on building interactive and useful widgets for your stock market app. Furthermore, you would require attending to the fact that the widgets remain compatible with different OS updates. Finally, your app should come up with new and better widgets frequently to keep the users satisfied at any point in time.
4. Security
The stock market is a risky deal as it involves massive fund transfers. So, you can estimate the importance of keeping the app as secure as possible. You can integrate better security functionalities into the app and rely on cutting-edge technologies like Blockchain to build a safe platform for investments.
5. Payment Gateways
As the stock market apps are all about transactions and fund transfers, you require integrating diverse payment gateways for seamless processes. Besides, they should have excellent security features to protect the investments and make your platform more reliable.
6. Push Notifications
An investor would like to stay up-to-date with even minute movements in the market. So, the push notifications feature is a must-have in a Hargreaves Lansdown-like application.
7. Support
Your app users might land in a situation demanding extensive support from the customer support associate. So, you should provide a robust support functionality in your app that resolves all user issues efficiently.
8. Chatbot
It is a new feature gaining massive popularity across industries. Chatbots are a revolution in the stock market app sector as well. You can consider integrating the platform with proficient chatbots to solve all user queries in the blink of an eye. Such a feature will attract more users to your platform, making it a highly successful venture.
2. Stock Market App Development
You would require a myriad of resources and aligning them to build a perfect stock market app that aligns with your objectives. Here are some of the tools that you need to gather before developing a stock market app like Hargreaves Lansdown.
Firstly, you require choosing between native apps and cross-platform products before proceeding further.
Next, collect the technology stack to start your project like appropriate frameworks (Swift, React Native, and Ionic), data analytics tools (Python, Java, Apache toolkit), DevOps(AWS Cloud Formation, Chef), and Databases (MongoDB, Cassandra, and MySQL).
Now, you are all equipped to build a fantastic stock market app like Hargreaves Lansdown.
3. Build Your Team for Stock Market App Development
Now, you require dedicated developers to finish your project. Here is how you can build your team.
Aren't you confident enough to build an app from scratch? You can connect with us! Auxano Global Services is the leading bespoke mobile app development company in the UK. that lets you hire dedicated bespoke app developers for several projects. You can hire our developers at competitive price points and build your product efficiently. It's the ultimate time to build a stock market app like Hargreaves Lansdown and generate immense revenues at the earliest. Contact us now.
Frequently Asked Questions
1. What is Hargreaves Lansdown?

Hargreaves Lansdown is a top-rated stock market application in the stock market industry. It is witnessing an ever-expanding user base and significant growth.

2. Why invest in the stock market app?

The stock market is the most popular topic for investors. The process of investing money in the stock market was a bit complex but mobile apps made it easy and efficient for the common person. That's why a large number of people invest a small amount of savings via mobile apps. Therefore, investing in stock market app development is not only profitable but a sustainable idea in 2022.

3. What are the top stock market apps in 2022?

The top stock market apps in the UK are Fidelity, Merrill Edge, Pepperstone, Plus500, eToro, IG, and Interactive Brokers.

4. What are the types of stock market apps?

There are multiple types of stock market apps such as investing apps, livestock marketing apps, stock market guide apps, international stock exchange apps, and small fund investing apps.

5. Which is the best stock market app development company?

6. Where can I go for more information about stock market app development services?