Thinking about how to hire a dedicated Software engineer? However, in between technological giants, it is often quite a challenge to find a good software engineer. But, it can be streamlined if you know ways to find a suitable one.
Certain steps can lead you to find a suitable candidate for your software solutions requirements. This guide will facilitate you with a checklist to countdown, so you can get the perfect software engineer.
Statistics
Let's first clear your understanding of market analytics of Software Engineers and their overall market value
Through a study by EDC in 2018 there were 23 million software developers and by 2023 the expected growth is by 27.7 million.
Demand for Software Engineers is to grow by 22%.
What do remote software engineers do?
Software engineers are responsible for designing and creating computer systems and applications that can comply with software solutions demands. Also generally called software developers, they architect and develop fully-functional software.
Adept software engineers know to use the right programming languages, platform architectures. Companies that hire remote software engineers usually get the same services from the engineer except for a few.
Hire remote software developers to work the same as software engineers, except there is a little difference. Remote Software developers are located in several different geographical locations. They work more virtually than face-to-face interaction.
These developers don't work physically with their teammates. They rely on virtual facilities to stay connected with their fellow team members. Other than this, a remote software developer works the same as a software engineer.
Benefits of Hiring Remote Software Engineers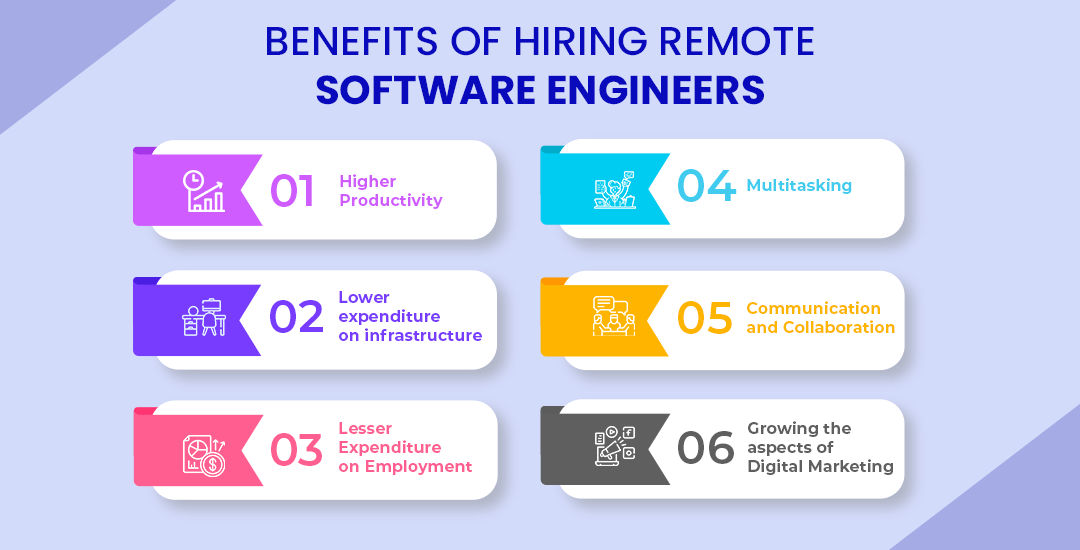 After understanding what a Remote Software Engineer does, let's understand the benefits of hiring them. Here are six points explaining what advantages a remote software engineer brings.
Higher Productivity
Remote developers work better with more efficiency. A comfortable environment of their home lets them work at their own time and convenience, therefore they aren't bonded and work with complete willingness.
Working in a relaxed environment gives the developers more clarity of ideas. They have space to explore and work, giving a higher level of productivity. The home environment lets the developer work with comfort without any chaos.
Adding to it, remote developers are from different countries and bring to the table a variety of ideas and distinctive forms of innovation. A variety of localities in your organization can add to the efficiency of your organization.
With an encouraging willingness to work, remote developers work round the clock. Without constraints of date and time, they can be available whenever the client demands.
Lower expenditure on infrastructure
A remote developer just demands a salary. Otherwise, there aren't any other expenses for them. Unlike office workers, remote software engineers incur lesser investment for infrastructural requirements.
Housing-in developers have additional maintenance costs including technical infrastructure, office space, electricity consumption, and many more. These aspects incur more investment.
However, with remote software engineers, you can exempt these charges and get the correct talent for your team. Attractive offices with designed workplaces and advanced technology are expensive to build.
With lower costs, remote software engineers choose the place that suits them and makes them happiest while working. So, you can have better work and outcomes by bringing devices and an environment that boosts your creativity.
Lesser Expenditure on Employment
Remote Software Engineers work for a short and defined period. Usually just for a project or contract. According to their work and work period, their salary can be negotiated. Hence, the company spends a limited amount on its remote developers.
Comparatively, when you hire a full-time employee for software engineering, you need to take account of their salary, insurance, retirement, bonuses, overtime, social security, medicare, and many more.
But with remote software engineers, these added expenses are your decision. As you can add more benefits to make the project and hiring attractive but it's not mandatory to do so.
You can work easily with remote software engineers without bondage and long-term contracts that take a great part of your investment.
Multitasking and correct talent
Compared to office workers, hiring different remote software developers gives more room for completing distinctive tasks. They can do a lot more work at the same time. You can have several projects done at the same time.
It is crucial to find suitable candidates for your company. Hiring remote developers exceeding the geographical locations allows you to unearth the real talent. Those professionals are skilled enough to handle the projects by themselves.
When you open up to remote software engineers, you are open to wide spectrum talent capability. This allows you to dig up from a larger ground rather than limiting the finding to a particular area.
Great developers are in demand and this demand makes it a daunting task to find the right talent. With a well-drafted hiring process and stringent interview process, you can have the perfect candidate for your vacancy.
Communication and Collaboration
More remote developers hired by a company, more connections and contacts they build. Many things like interacting with different people to search for remote workers spread the company's name more.
Also, hiring remote developers means you are hiring a person who has been tested by time, extreme competition, and the market. These professionals are adept in their field and know how to work perfectly.
They know how to communicate effectively, collaborate efficiently, and integrate with complete comprehension. You can have professionals that are well-experienced and up-to-date with contemporary market demands.
Remote developers are skilled and creative, and with the correct parameters of online tests, exams, and interviews, you can dig up the correct talent.
Growing the aspects of digital marketing
By hiring remote software engineers, the company can increase its areas of digital marketing. By hiring remote developers away from your company's location, you extend your digital presence.
For finding remote developers you will have to go on various platforms and create your digital presence there. By intending to just hire a remote software engineer your company will also scale up in digital marketing.
More people know about your presence through the searching, selection, and interviewing process, more marketing you will incur without any such costs.
Why hire a Remote Software Engineer
Let's make it clear why you should hire a remote Software Engineer. The fundamental reason is that, through social media, companies can find fresh as well as experienced remote developers.
Adding to it, as an employer you don't have to arrange any infrastructural requirements for them. In their home environment, they work with their equipment.
How to hire a remote software engineer?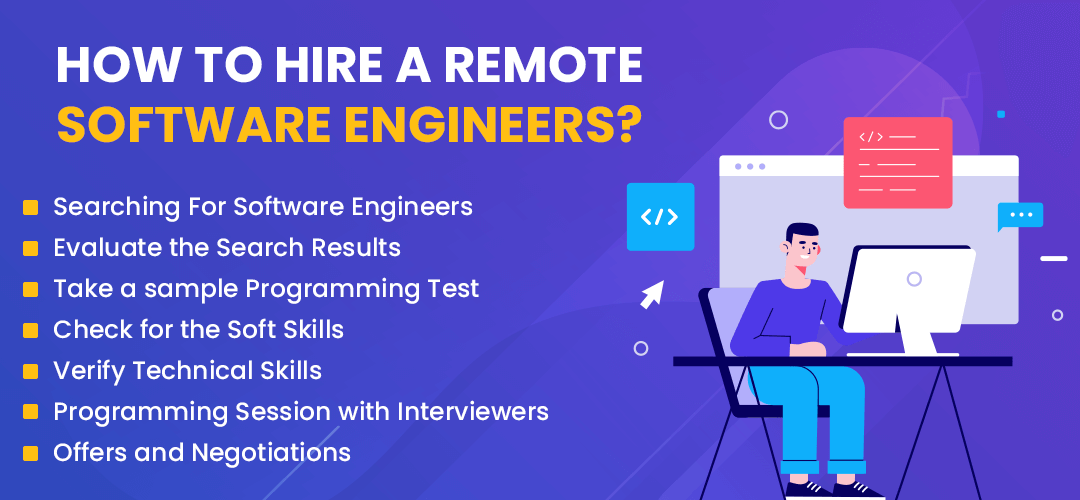 As you have read the advantages of hiring a remote software engineer. Here is a complete step-by-step process that you can follow while hiring a remote software engineer.
1. Searching for Software engineers
Firstly, start by finding the talent. You can post job ads on various platforms or can even look at freelance marketplaces. If you want to hire an experienced remote software developer you need to search as much as possible.
Several platforms connect you to freelancers from around the globe. These freelance marketplaces are a great choice if you have a short-term app idea. You can post a developer job offer on some renowned tech publications and job boards.
You can also go social searching for talents. Social media platforms are highly effective mediums to hire a remote team for your app projects and reach a high volume of people.
Freelance marketplaces offer you many software developer candidates. Developers in these marketplaces are habituated with competition and fight hard to win. For having work they are also willing to charge less.
2. Evaluate the search results
As you have found the correct candidates, screen them carefully. It is important to know almost everything about them. With the right skills and expertise, you can hire a suitable candidate.
For the right candidate, you will have to start with evaluating the accounts and profiles of the developers. To hire candidates with the desired skill set, you will have to check and verify their records and past clients' details.
Through two platforms, one is Stack Overflow and GitHub, you can start screening the developer's accounts. Stack overflow checks the volume of responses the developer gives and their active participation.
GitHub shows you what type of projects they have worked for in the past. You can keenly observe their volume and type of contributions. It also helps you check their followers and their time spent on these platforms.
3. Don't forget to take a sample programming test
After evaluating, this step is salient in the procedure. Make sure that the developer you are hiring is adept with practical coding skills. Some online platforms provide sample programming tests at your fingertips.
The sample programming test helps you evaluate the candidate correctly. You can test their practical coding skills with certain software projects. Fix a time limit for the candidates to come up with a potential solution.
If you are wondering where to start, then there are some great online platforms to help you take sample coding tests by including actual assignments. Those platforms make things easier for the hiring process.
These such tests help you evaluate a candidate through practical assignments, and you can understand how the candidate is habituated to work. Give the sample coding test the maximum importance.
4. Check for the Soft Skills
When the developer won't interact physically, for virtual interaction soft skills are important. During the interview, have in mind to check the candidate's skills that can comply with the company's values.
Soft skills include communication, integration, teamwork, understanding, language, dedication, and much more. Some people eliminate soft skills as they are not to be used directly. But these skills matter a lot.
Apart from technical skills, soft skills matter too. These skills make the person who they are and therefore when you work with them, their soft skills will impact a lot.
Channelize an interview that focuses on the personality, attitude, and value systems of the candidate. Aim to ask behavioral and personality questions.
5. Verify their technical skills
Soft skills are also important to ensure the candidate's technical ability. You should focus on evaluating the experiences and reviewing their technical skills. Technical skill tests help you evaluate their cognition for work.
For evaluating their technical skills, conduct a brief technical interview that focuses on two key areas. First is evaluating their experiences and testing their specialization. The second is reviewing their technical skills.
You can frame questions that test the candidate's past projects, roles in the job, their contributions to the field, problems they solved, codes they know, and many more related to technical aspects.
6. Conduct a pair programming session with the technical interviewer
This is the final step that engages the developer candidate in a real-time development environment with the technical interviewer. They work on the same project that helps you evaluate the developer candidate's coding skills.
This is the final and most important stage in which the technical interviewer also engages in coding a sample software. This session helps in knowing how well the candidate can integrate and blend with project expectations.
Working on the same project, helps the technical interviewer know the level of teamwork skills the candidate has. Generally, remote developers give these types of tests on online platforms.
7. Offer and Negotiation
After finalizing a suitable candidate, you now have to make a formal offer. According to your project requirements, these include time, cost, and demands. Contracts are important while you hire a remote software developer.
As you have found your ideal candidate, now is the time to negotiate a perfect price that suits them and you. Make sure not to give overpriced contracts and negotiate for a lesser price.
Such contracts are crucial while hiring remote software engineers, as it helps in validating rules of another country's tax, healthcare, and much more. Align the payment contract with a perfect period.
Hiring remote software engineers might invite some fallbacks, but keep in mind to make a good offer that profits both the parties and carefully draft a contract. These things will help you in minimizing the possible cons of hiring a remote software engineer.
Skills to watch for While you hire a Remote Software Engineer

With advantages, there are also some fallbacks if you don't follow a conscious list of required skills. So, let's cut the possible cons of hiring a remote software engineer by checklist a complete list of required skills in your ideal candidate.
They should have an optimistic approach.
Adept with communication skills
Ability to multitask and handle several projects together
Time-management
Expert with their niche not jack of all trades
Good exposure to similar projects before.
Team-work spirit
Long-term vision with wider intellectuality
High level of creativity.
Concluding Note
So, as we have gone through various phases of hiring a remote software engineer you can now go to the industry for hiring a suitable candidate. In 2022, it will be challenging to hire remote software developers.
Following this informative guide will give you fruitful insights on employing remote developers
Auxano Global Services is the top bespoke app development company that facilitates its clients with perfect remote software engineers. Our team is with experts from the field. These professionals have skills listed here. You can think of hiring a suitable remote software engineer for your company and come to us for its best solutions.
If you wish to hire dedicated remote software engineers, contact us now.
Frequently Asked Questions
1. What is the difference between a software engineer and a remote software engineer?

Their general code of conduct for jobs is similar. They both have to do similar tasks. While the main difference is that engineers working remotely, work with different physical locality. They don't share the same working space physically.

2. Is it beneficial to hire a remote software engineer?

It is indeed very beneficial to hire a remote software engineer. In 2022, when the competition will increase, you need to develop and complete several projects at the same time with lesser investment. Remote software developers can help you with it.

3. What is the cost of hiring a remote software developer?

It depends widely on the region you choose. For the US and UK, the charges are around $100 – $200 per hour. While for Asian Countries like India, Nepal, and Pakistan the cost is around $20 per hour.

4. How can I know more?

If you can to know more, contact our consultants. They are well equipped with knowledge regarding hiring remote software developers and can also help you with some suitable candidates for your company.

5. Which agency should I trust for hiring a Remote Software Developer?

Well, You can trust Auxano Global Services. We are accountable and deliver our clients the best. When working with us, you don't need to worry much.